COME FOR THE CIRCUS, STAY FOR THE BANANA BREAD!
The 7 Fingers Cuisine & Confessions
Dates
November 1 to December 4, 2016
Closed: December 4, 2016
Theatre
Princess of Wales Theatre
300 King Street West, Toronto

Running Time
90 minutes - no intermission
Audience Advisory
Recommended for ages 7+. Heavy amounts of flour used in the last portion of the performance.
Show Goers Rating
4/5 - 5444 reviews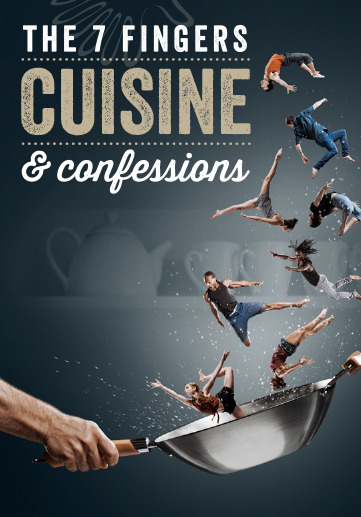 Storytelling through food… this is the sweet taste of childhood, of a summer breeze through a screen door. Or the hot chocolate-dampened lips of a first kiss.
Read More
Life happens in the kitchen. Late night confessionals over tea and a jar of Nutella. Elaborately choreographed family meals. Lessons learned, secrets exchanged, bonds forged, reinforced by our most visceral of senses. Accompanying the usual eye-popping flight of acrobatic choreography and pulsating music are the other three senses — the touch of hands in batter, the smell of cookies baking, the taste of roasted oregano — leading us through a span of times and countries, all the while the iconic kitchen our common meeting point.
From the creators of this past season's surprise hit Traces, comes CUISINE & CONFESSIONS, a culinary and acrobatic treat that will satisfy the senses!