Neighbourhood Restaurants
Enjoy pre or post show dining at any of the following neighbourhood restaurants!
Mirvish Subscribers enjoy a 10 - 15% discount at select restaurants. Please check the box Subscriber Discount for an up-to-date listing of valid restaurant partners. Please present Subscriber Card with valid season tickets. Only one discount applies per table, per bill. Beverages may not be included by some restaurants. Gratuities are extra. Restrictions and black out periods may apply. Please contact restaurant for details.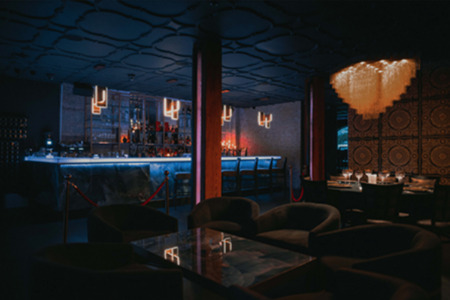 Empire Supper Club
$$
220 King Street West
647-861-1814
Read Description
Empire Supper Club is steps away from the Royal Alexandra and Princess of Wales Theatres in the heart of entertainment district. Our menu was curated by Chef Ivana Raca. With her guidance and speciality in Mediterranean style cuisine we have curated an exciting three course menu for theatre-goers that embodies flavours from all around the world to satisfy every pallet. 15% off for Mirvish subscribers. Not applicable to the prix fixe menu or alcoholic drinks. Only one discount applies per table.

Lobster Burger Bar
$$
214 King Street West
416-598-2929
Read Description
Lobster Burger bar is an East Coast style restaurant located in the heart of Downtown Toronto's Entertainment District. The restaurant offers a variety of fresh seafood, East Coast lobster, and certified Wagyu Beef.
Here at LBB we pride ourselves on providing high-quality ingredients sourced from local Canadian farmers and producers.
We are the perfect dining destination for all Mirvish ticket holders and subscribers! Join us pre or post Mirvish shows to explore all of our delicious culinary and cocktail creations.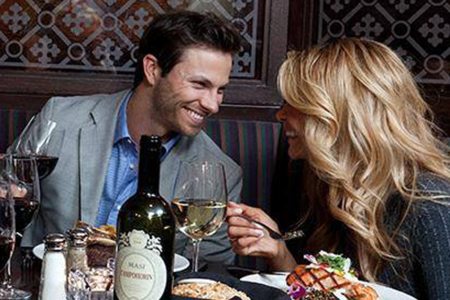 Quinn's Steakhouse & Irish Bar
$$$
96 Richmond Street West (Sheraton Centre)
416-367-8466
Read Description
Quinn's Steakhouse & Bar offers superb hospitality and fast and friendly service. We offer finest premium AAA steaks and prime rib aged in-house a minimum of 28 days, chicken, lamb, fresh fish and seafood. Our beverage offerings include an extensive wine list, 14 beers on tap. Reservations recommended. Convenient parking next door at City Hall with covered access to the restaurant.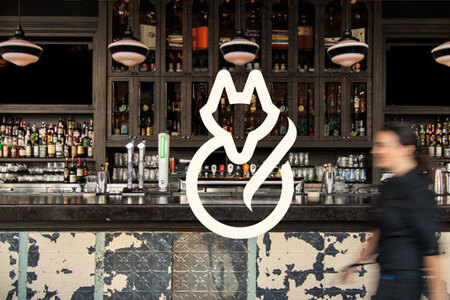 Fox and Fiddle
$$
106 John Street
647-748-0369
Read Description
The Fox and Fiddle is a modern take on the classic British pub, right in the heart of the city. Our space is warm and inviting and our patio is spacious and exciting. The Fox is the ideal place for a corporate luncheon or a holiday party. Enjoy our great "made from scratch" menu and our homemade traditional desserts. Sample our excellent selection of draft beers and wine. We are steps from the Princess of Wales and Royal Alexandra Theatres - on John Street, just north of King.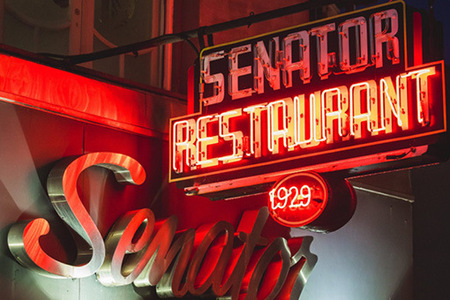 The Senator
$$
249 Victoria Street
416-364-7517
Read Description
So close you can taste it.The Senator is Toronto's beloved iconic restaurant. We are directly across the street from the Victoria Street entrance of the CAA Ed Mirvish Theatre. The time-honoured reputation of our family operation is a comfort food menu using the finest ingredients and there are always delicious seasonal choices for everyone in the family. We offer a selection of cocktails and fine wines, a retail bottle shop and serve dinner from 4:30PM Tue-Sat. Phone reservations recommended.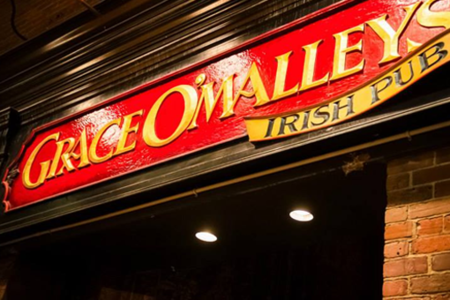 Grace O'Malley's Irish Pub & Restaurant
$$
14 Duncan Street
416-596-1444
Read Description
Located just steps from the Princess of Wales & Royal Alex, Grace O'Malley's Irish Pub & Restaurant blends good times with old Irish warmth and charm. The menu features traditional gastropub fare with a selection of international dishes all prepared with the freshest locally sourced ingredients. The beverage menu features local Ontario craft beers and imported favourites plus specially selected Ontario VQA and international wines. O'Malley's is ideal for a pre- show dinner or after- show drinks.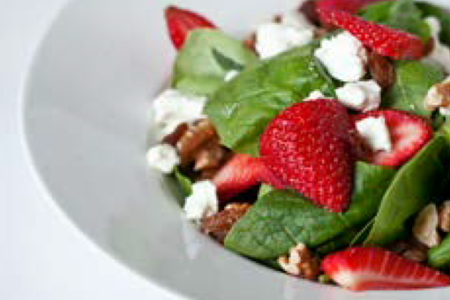 Shopsy's Deli & Catering
$
96 Richmond Street West, (Sheraton Centre)
416-365-3354
Read Description
Shopsy's Deli, Restaurant & Catering has been serving great food since 1921. We offer breakfast, lunch and dinner daily, featuring all of your deli favourites. Our beverage offerings include an extensive, well-priced wine list along with 14 great beers on tap (local and imported). Convenient, well-priced parking right next door at City Hall with covered access to the restaurant.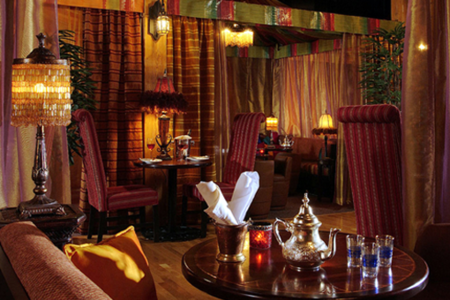 The Sultan's Tent & Cafe Moroc
$$
49 Front Street East
416-961-0601
Read Description
Be transported into an oasis of plush divans and lantern lit tents..sipping cocktails and mint tea, admiring the charms of the belly dancers. Enjoy a Sultan's Feast in our tented area or tantalizing a la carte dishes in our sophisticated café. Experience the exotic flavours of Morocco, our tagines, our desserts, before or after the show or just come in for drinks. Voted most memorable, best ambiance, most romantic, and where Toronto eats! Truly, "Where Toronto Celebrates!"
Milestones Grill + Bar
$$
10 Dundas Street East
416-598-2800
Read Description
"We're a spot that just happens to have seriously delicious food. Brunch, lunch and dinner, we have something for everyone. Affordable Wine and hand crafted cocktails"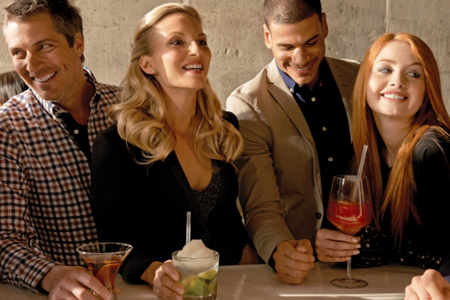 Moxie's Grill & Bar
$$
70 University Ave
647-748-7172
Read Description
Moxie's is a premium casual restaurant focusing on superior food quality & exceptional service at reasonable prices. Featuring a warm, stylish environment and an incredibly diverse menu, designed to provide our guests with a variety of delicious & healthy choices - catering to every palate, with inventive, globally inspired food. Moxie's is the perfect choice for a business lunch, after work drinks, a family outing or a romantic rendezvous. Located at the corner of University & Wellington.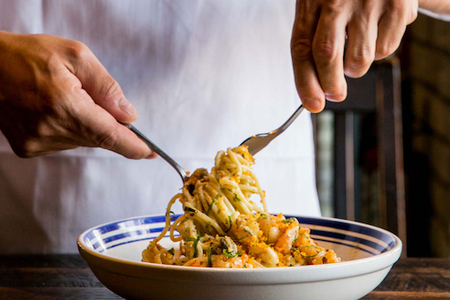 Scaddabush Front Street
$$
200 Front Street West
416-979-3665
Read Description
SCADDABUSH is Italian slang for "a little bit of everything". And with our social sized dishes (perfect for sharing) you can certainly try a little bit of everything. Our kitchenstyle tables set the stage for classic Italian hospitality and authentic Italian food. Friends and family alike feel at home in our spirited, unpretentious atmosphere.
SCADDABUSH Front is located on the northwest corner of Front and Simcoe Streets. Our main doors are located on Front just west of Simcoe, but we also have a direct entrance in from Simcoe Place. We look forward to welcoming you.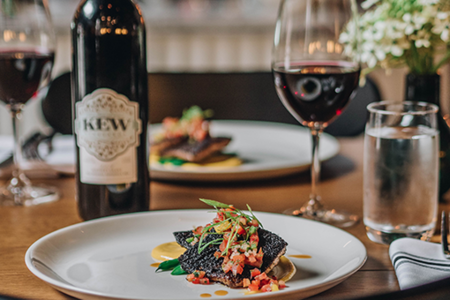 Victor
$$$
30 Mercer Street
416-883-3431
Read Description
A modern restaurant whose style is influenced by French classics with a North American twist. The restaurant is a haven for guests who are looking for an unpretentious but dynamic dining experience. Located on Mercer Street, Victor is just a 2 minute walk from the Princess of Wales and Royal Alex Theatres. On Friday evenings, we offer ½ priced bottles of wine to all our guests.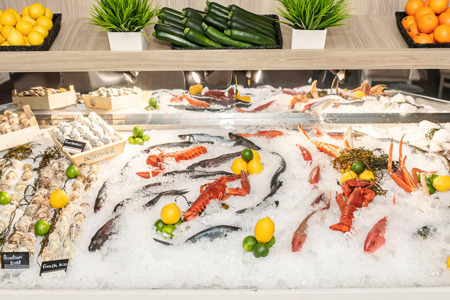 Petros82
$$$
299 Adelaide Street West
416-785-7400
Read Description
Petros82, situated in Toronto's Entertainment District, is downtowns newest premium, casual authentic Greek dining experience! Bringing you delectable flavours of the Aegean Sea and the custom of Philoxenia to your table. It is a concept that drives Greek hospitality; philoxenia, the art of making a stranger a friend.

Minami
100-225 King Street West
416-519-9182
360, The Restaurant at the CN Tower
$$$$
301 Front Street West
416-362-5411
Read Description
Lunch and dinner menu. Fresh marketplace cuisine.
7 West Cafe
$$
7 Charles Street West
416-928-9041
Read Description
Lunch and dinner menu. Italian Cuisine
Accents
$$$
955 Bay Street Sutton Place Hotel
416-324-5633
Read Description
Lunch and dinner menu. Fresh marketplace cuisine.