Dates
February 28 to April 16, 2017
Closed: April 16, 2017
Theatre
Princess of Wales Theatre
300 King Street West, Toronto

Running Time
2 hours 30 minutes (includes intermission)
Audience Advisory
This production employs atmospheric haze & low-lying fog effects. Contains explicit language. Recommended for ages 16+.
Show Goers Rating
5/5 - 7483 reviews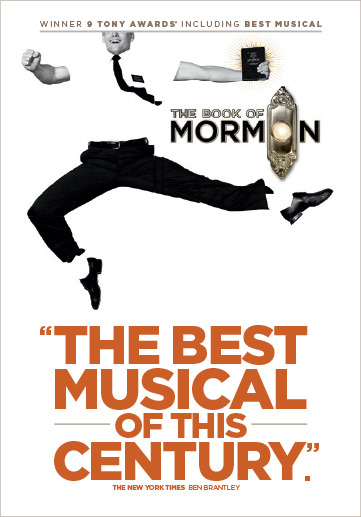 THE BOOK OF MORMON LOTTERY
Entries will be accepted at the box office beginning two and a half hours prior to each performance; each person will print their name and the number of tickets (1 or 2) they wish to purchase on a card that is provided. Two hours before curtain, names will be drawn at random for a limited number of tickets priced at $25 each. Cards are checked for duplication prior to drawing. Winners must be present at the time of the drawing and show valid ID to purchase tickets. Limit one entry per person and two tickets per winner. Tickets are subject to availability.
The New York Times calls it "the best musical of this century." The Washington Post says, "It is the kind of evening that restores your faith in musicals." And Entertainment Weekly says, "Grade A: the funniest musical of all time." Jimmy Fallon of The Tonight Show calls it "Genius. Brilliant. Phenomenal." It's The Book of Mormon, the nine-time Tony Award®-winning Best Musical..
Read More
This outrageous musical comedy follows the misadventures of a mismatched pair of missionaries, sent halfway across the world to spread the Good Word. Now with standing room only productions in London, on Broadway, and across North America, THE BOOK OF MORMON has truly become an international sensation. Contains explicit language.