CAA Ed Mirvish Theatre
For over one hundred years, the CAA Ed Mirvish Theatre (as it is now known) has been at the centre of Toronto's popular entertainment scene. With a two-tiered auditorium that was completely renovated in 2021 and 2022 and with two seating configurations (1,600 and 2,000 seats), it is a perfect venue for everything from intimate plays to large-scale musicals. It is located at 263 Yonge Street (just below Dundas Street); the main entrance and box office are located at the rear of the building, at 244 Victoria Street. Patrons with tickets may use either entrance, however those who have difficulty with stairs should come to Victoria Street where there is wheelchair lift access to the main lobby, box office and Orchestra seating level.
Box Office Hours
December 4 - 10
Monday: Closed
Tuesday & Wednesday: 12PM - 6PM
Thursday: 12:30PM - 8:30PM
Friday & Saturday: 12PM - 8:30PM
Sunday: 11AM - 8PM

December 11 - 17
Monday: Closed
Tuesday: 12PM - 8:30PM
Wednesday & Thursday: 11:30 AM - 8:30 PM
Friday & Saturday: 12PM - 8:30PM
Sunday: 11AM - 3PM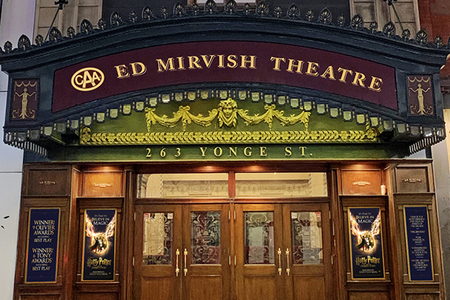 This majestic theatre has had many names since it first opened in 1920. It began life as the Pantages Theatre, named after the famous vaudeville circuit impresario Alexander Pantages. On December 6, 2011, it was renamed the Ed Mirvish Theatre in recognition of another great theatre impresario: Edwin "Honest Ed" Mirvish. Prominent members of the theatre world, as well as members from all levels of government, gathered together in recognition of his important contribution to the arts at a renaming ceremony. Notable guests included theatre stars Shirley Douglas, Louise Pitre, Michael Burgess and Camilla Scott, and Toronto Mayor Rob Ford, who proclaimed December 6 to be "Ed Mirvish Theatre Day".
On September 22, 2021, Mirvish Productions and CAA announced a new 10-year partnership agreement that includes naming rights to the CAA Ed Mirvish Theatre formerly known as the Ed Mirvish Theatre in Toronto.
Getting Here
BY CAR: If you are driving into Toronto via Highway 401 (the MacDonald-Cartier Freeway), the Gardiner Expressway is linked to the 401 to the east by the Don Valley Parkway (Highway 404) and to the west by Highway 427.
From the Don Valley Parkway, take the Richmond Street exit, travel west to Victoria Street, then north to the CAA Ed Mirvish Theatre.
From Highway 427, take the Gardiner Expressway to Jarvis Street, going north to Richmond, travel west to Victoria Street, then north on Victoria Street.
BY RAIL: Visitors arriving by VIA or GO Train can walk to the CAA Ed Mirvish Theatre from Union Station in fifteen-minutes. Walk to Yonge Street, one block east of Union Station, then head north until you reach the theatre (263 Yonge Street). You can also take the TTC subway from Union Station [Line 1 (Yonge-University) towards Finch station] three stops north to the Dundas subway station; from there it is a short walk to the theatre, located just below Dundas Square.
BY TRANSIT: The CAA Ed Mirvish Theatre is just south of the TTC Dundas subway station (Line 1). It is also just a short walk north of the Queen subway station. Visit the TTC website to plan your visit.
Parking
AREA PARKING: There is underground parking at the Green P municipal lot beneath Dundas Square (with garage entrance at Dundas and Victoria); at the Eaton Centre (with entrance off Yonge at Shuter, just southwest of the theatre); at St. Michael's Hospital (with entrance off Victoria Street, just south of the theatre). There is a surface parking lot just across the street from the theatre (237 Victoria Street).
MUNICIPAL LOTS: Search for "off-street parking" by location (CAA Ed Mirvish Theatre, 244 Victoria Street).
STREET PARKING: Search for "on-street parking" overview by location (CAA Ed Mirvish Theatre, 244 Victoria Street).
MOTOR COACH & BUS PARKING: Check the City of Toronto website to find out more about designated motor coach and bus loading areas. PICK UP / DROP OFF: Look for signage posted on Victoria Street near the CAA Ed Mirvish Theatre main entrance (244 Victoria Street).
Accessibility
The CAA Ed Mirvish Theatre is a historic building, originally built in 1920. It has no elevator or escalator within the building interior; stair access is required throughout much of the building, including to reach the Mezzanine seating level and to enter through the Yonge Street Gallery link (263 Yonge Street).
The main level of the theatre is accessible. The Victoria Street entrance (244 Victoria Street) is equipped with a wheelchair elevator/lift that provides access from street level to the main level. Note: the elevator/lift accommodates one person and one wheelchair; max. 750lb/340 kg; inside measurement 29 ½" wide X 60 ¼" long.
Once on the main level, guests have access to the box office and Main Lobby which features private barrier-free restroom facilities, bar and concession services and merchandise sales. Coat check service (located on the Mezzanine level) can be arranged with the help of front of house staff.
Wheelchair accessible, special access and bariatric seating are available on the Orchestra level, located just off the Main Lobby.
The theatre is equipped with the Sennheiser infrared assisted listening system which requires use of headsets that are available to borrow, free of charge (advance reservation required).
See the ACCESSIBILITY page on our website for more information on the building layout, facilities, accessibility services, and policies. Please contact Audiences Services at 1.800.461.3333 to book accessible seating.
The CAA Ed Mirvish Theatre does not have its own parking garage. See PARKING for general information on municipal and area parking. You may also find useful information on the City of Toronto Accessible Streets webpage.
Suites & Lounges
ED AND ANNE MIRVISH SUITE - The Ed & Anne Mirvish Suite is located beneath the auditorium and features a private entrance that can be accessed from both Victoria Street and the Orchestra seating level. This VIP suite features a private restroom, bar and complimentary coat check. It accommodates up to 30 guests and is available to rent for pre-show, intermission, and post-show event hosting. (Stair access only)
YONGE STREET GALLERY - The Yonge Street Gallery is located between the Yonge Street entrance and the Mezzanine level of the theatre. This space including bar service can be rented for special occasions with up to 150 attendees as a semi-private event during intermission only. (Stair access required)
Concessions / Bars
Both levels of the theatre feature bar/concession counters available to all guests during pre-show and intermission, located in the Main Lobby, the Mezzanine Lobby and the Yonge Street Gallery.
Each counter sells a limited selection of alcoholic beverages - wine, liquor, liqueurs and bottled beer - as well as non-alcoholic beverages, including bottled spring water, soft drinks and coffee. In addition, an assortment of snacks is available at each counter, including cookies, packaged candy and ice cream. Enjoy exclusive American Express Cardmember access to the Priority Bar located in the Main Lobby (east side).
Bars and concessions are open pre-show and during intermission and food and beverage can be consumed in the lobbies and auditorium.
Patrons may take all products that are sold in our lobby spaces to their seats. Outside food and drinks are not permitted in the theatre.
Bars accept debit and credit cards, Mirvish Subscriber Cards, cash and pre-paid vouchers. Contactless (tap) payment is available for all card payment methods.
Coat Check / Lost & Found
For your convenience, a coat check is located on the Mezzanine Lobby level. The cost is $2.50 per checked item. Guests who are CAA Members may present their valid membership card to receive complimentary coat check service.
Did you lose an item in the theatre?
Call 1.800.461.3333
Press 4 for Lost & Found
Email: lostandfound@mirvish.com
Historic Tours
The history of the CAA Ed Mirvish Theatre theatre mirrors the history of Toronto's entertainment landscape. Beginning its life in 1920 as the Pantages Theatre, a combination vaudeville and motion picture house, over the past century it has been reshaped, reimagined and renamed many times to remain at the centre of popular culture. With lavish interiors designed by the great theatre architect, Thomas Lamb, it is a beautiful and fascinating building to learn about and explore.
Theatre Rental
The CAA Ed Mirvish Theatre is the perfect setting for theatrical presentations, concerts, comedy, benefits, lectures, private functions, filming and much more. The grand sweeping stairway is ideal for post-event receptions, private functions and photo shoots.
One of the unique features of the theatre is the ability to convert capacities, from a full house (2,300 seats) to slightly less (1,800) and finally the intimate Playhouse setting (1,400).