CAA Theatre
The CAA Theatre is located at 651 Yonge Street, just south of Bloor, in the heart of downtown Toronto. Originally a private residence, built in 1911, its site has since been the home of motion picture cinemas (beginning with "The Victory", in 1919) and live theatres (starting in 1993, when it was renovated and renamed "The New Yorker Theatre"). It was completely rebuilt in 2005 (only its facade remains) into an intimate 700-seat state-of-the-art live theatre and concert venue. It was purchased by Mirvish Productions in 2008, and renamed on December 1, 2018 as part of a new partnership with CAA.
Box Office Hours
September 18 - October 8
Monday: Closed
Tuesday - Thursday : 12PM - 5PM
Friday: 2:30PM - 7:30PM
Saturday: 12PM - 7:30PM
Sunday: 9:30AM - 5PM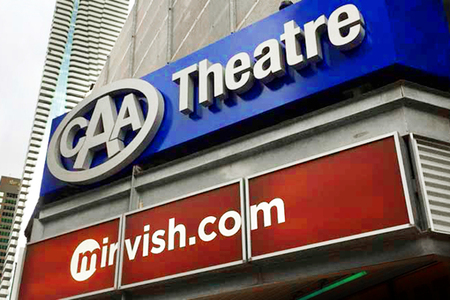 A night out at the theatre just got better for CAA Members. Exclusive perks include discounts on select Mirvish shows, complimentary coat check and coffee at all Mirvish Theatres and more! Find out more.
Getting Here
BY CAR: If you are driving into Toronto via Highway 401 (the MacDonald-Cartier Freeway), the Gardiner Expressway is linked to the 401 to the east by the Don Valley Parkway (Highway 404) and to the west by Highway 427.
From the Don Valley Parkway, take the Bloor Street exit, going east on Bloor to Jarvis Street, south on Jarvis to Charles St, west on Charles to Yonge Street.
From Highway 427, to the Gardiner Expressway to Jarvis Street, going north to Charles Street, west on Charles to Yonge Street.
BY RAIL: Visitors arriving by VIA or GO Train who enjoy walking should plan to arrive at the CAA Theatre in approximately 40 minutes: walk east to Yonge Street, and head north until you reach the theatre (651 Yonge Street). You can also take the TTC subway from Union Station [Line 1 (Yonge-University) towards Finch station] northbound to the Wellesley station (five stops) or the Bloor-Yonge station (six stops); the CAA Theatre is located between these two stations.
BY TRANSIT: The CAA Theatre is located at 651 Yonge Street, between the Bloor-Yonge and Wellesley subway stations. Visit the TTC website to plan your visit.
Parking
AREA PARKING: There is underground parking at the Green P municipal Charles/Hayden lot (garage access on both Charles Street East and Hayden Street), as well as a private lot at One Bloor East. A street-level Green P municipal lot is located at Gloucester Lane / Isabella Street.
MUNICIPAL LOTS: Search for "off-street parking" by location (CAA Theatre, 651 Yonge Street).
STREET PARKING: Search for "on-street parking" overview by location (CAA Theatre, 651 Yonge Street).
MOTOR COACH & BUS PARKING: Check the City of Toronto website to find out more about designated motor coach and bus loading areas.
Accessibility
The CAA Theatre is a modern building with two seating levels (Orchestra and Balcony). The main level is accessible, including automated doors at the front entrance (651 Yonge Street), access to box office, coat check, bar and concession services, and merchandise sales. Private barrier-free restroom facilities are located on the Basement and Balcony Lobby levels, which are both accessible by the lobby elevator.
Wheelchair accessible, special access and bariatric seating are available on the Orchestra level. The Balcony level has some seating options for bariatric and special access seating, but is not suitable for guests requiring wheelchair accessible seating.
The theatre is equipped with the Sennheiser infrared assisted listening system which requires use of headsets that are available to borrow, free of charge (advance reservation required).
See the ACCESSIBILITY page on our website for more information on the building layout, facilities, accessibility services, and policies. Please contact Audiences Services at 1.800.461.3333 to book accessible seating.
The CAA Theatre does not have its own parking garage. See PARKING for general information on municipal and area parking. You may also find useful information on the City of Toronto Accessible Streets webpage.
Concessions / Bars
Both levels of the theatre feature bar/concession counters available to all guests during pre-show and intermission, located in the Main Lobby and Balcony Lobby. Each counter sells a limited selection of alcoholic beverages - wine, liquor, liqueurs and bottled beer - as well as non-alcoholic beverages, including bottled spring water, soft drinks and coffee. In addition, an assortment of snacks is available at each counter, including cookies, packaged candy and ice cream.
Bars and concessions are open pre-show and during intermission and food and beverage can be consumed in the lobbies and auditorium.
Patrons may take all products that are sold in our lobby spaces to their seats. Outside food and drinks are not permitted in the theatre.
Bars accept debit and credit cards, Mirvish Subscriber Cards, cash and pre-paid vouchers. Contactless (tap) payment is available for all card payment methods.
Coat Check / Lost & Found
For your convenience, a coat check is located in the Main Lobby. The cost is $2.50 per checked item. Guests who are CAA Members may present their valid membership card to receive complimentary coat check service.
Did you lose an item in the theatre?
Call 1.800.461.3333
Press 4 for Lost & Found
Email: lostandfound@mirvish.com
Theatre Rental
The CAA Theatre was completely rebuilt in 2005. It is an entirely new venue and is an extremely intimate space, with the last row in the balcony only 85 feet from the stage. The 700 seats are split between the Orchestra (427) and Balcony (273) levels, allowing a production to use one or both. The theatre is just right for small productions, comedy, concerts, graduations, press conferences, lectures and meetings.