The Studio 180 Production of Oslo
2017 TONY® AWARD-WINNING BEST PLAY
Oslo
Dates
February 9 to March 3, 2019
Closed: March 3, 2019
Theatre
CAA Theatre
651 Yonge St, Toronto

Running Time
2 hours 45 minutes (includes intermission)
Audience Advisory
Use of strong language. Limited smoking onstage. Some haze.

Recommended for ages fourteen (14) and older. Babes in arms or children under the age of two (2) are not permitted in the theatre.
Show Goers Rating
5/5 - 1088 reviews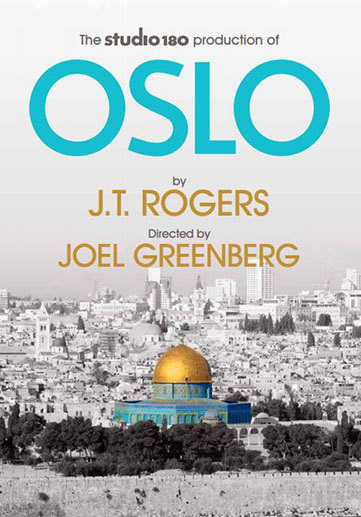 The Studio 180 production of OSLO
By J.T. ROGERS
Directed by JOEL GREENBERG

2017 TONY® AWARD-WINNING BEST PLAY
English-language Canadian premiere

In 1993, in front of the world's press, the leaders of Israel and Palestine shook hands on the lawn of the White House. Few watching would have guessed that the negotiations leading up to this iconic moment started secretly in a castle in the middle of a forest outside Oslo.
Inspired by the true story of the back-channel talks, unlikely friendships and quiet heroics that led to the Oslo Peace Accords, Oslo is a deeply personal story set against a complex historical canvas, a story about the individuals behind world history and their all too human ambitions. At this cultural moment when finding common ground is paramount, "Oslo gives us hope" (Daily News).
STARRING
JONAS CHERNICK as Uri Savir
PATRICK GALLIGAN as Johan Jorgen Holst/Finn Grandal
AMITAI KEDAR as Yair Hirschfield/Shimon Peres
OMAR ALEX KHAN as Hassan Asfour
MARK McGRINDER as Yossi Beilin
MARLA MCLEAN as Mona Juul
SARAH ORENSTEIN as Marianne Heiberg/Toril Grandal
JORDAN PETTLE as Ron Pundak/Jan Egeland
ALEX POCH GOLDIN as Joel Singer
GEOFFREY POUNSETT as Thor Bjornevog/US Diplomat
SANJAY TALWAR as Ahmed Qurie
BLAIR WILLIAMS as Terje-Rod Larsen
ANDERS YATES as Trond Gunderson/German Husband