Lasting Impressions in 3D: The Magic of The Impressionists
Dates
August 10 - October 22, 2023
Closed: October 22, 2023
Theatre
CAA Theatre
651 Yonge St, Toronto

SHOW SCHEDULE
Tuesday - 2PM & 4:30PM
Wednesday - 2PM & 4:30PM
Thursday - 2PM & 4:30PM
Friday - 4:30PM & 7PM
Saturday - 2PM, 4:30PM & 7PM
Sunday - 11:30AM, 2PM & 4:30PM
Running Time
1 hour 40 minutes (includes intermission)
Advisory
Ages 5+. Infants 2 years of age and under will not be admitted to the auditorium.
Accessibility Services
For assistance booking special access seats or for information about our Accessibility Services, please call 1.800.461.3333.
Groups
For Group savings on 10-29 tickets, book online or call 1.800.461.3333 for assistance. Restrictions and blackout dates apply.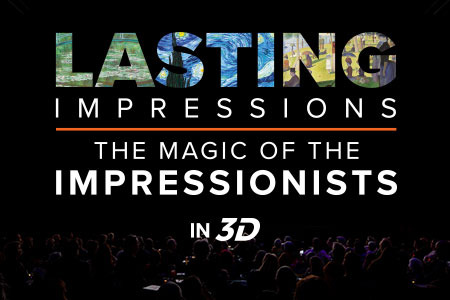 Art comes to life at Lasting Impressions in 3D, a breathtaking and unique new art event that features over 160 masterworks by 17 of the greatest Impressionist painters, including Paul Cézanne, Edgar Degas, Paul Gaugin, Eva Gonzales, Claude Monet, Camille Pissarro, Pierre-Auguste Renoir, Georges Seurat and Vincent Van Gogh.
State-of-the-art cutting-edge 3D motion sculpting technology and holographics allow audiences to step into some of the most famous and beloved paintings of all time.
art comes to life at Lasting Impressions in 3D
watch the video
Sit with Renoir's luncheon guests at the Luncheon of the Boating Party, dance with Degas' ballerinas, float with Monet's water lilies, soar into Van Gogh's Starry Night. At this once-in-a-lifetime experience, you can spend Sunday in the Park with George and move among the famous characters on Seurat's Isle of La Grande Jatte.
These beautiful and breathtaking images are accompanied by the musical masterworks of Debussy, Ravel and other composers, as well as French standards by Edith Piaf, Charles Aznavour, Nana Mouskouri and others.
The intimate CAA Theatre has been reconfigured for this special event. On the orchestra level, the traditional theatre seats have been replaced with tables and chairs, creating a Parisian Cafe ambience that is enhanced by a light menu of food and drinks, including wine and champagne.
WILL LAST IN THE MINDS OF AWESTRUCK SPECTATORS FOR MONTHS TO COME. - Montreal Gazette
PEACEFUL YET MESMERIZING. SURRENDER TO THE ZEN. - Miami Herald
SPECTACULAR! WORLD-CLASS ART MEETS TECHNOLOGY AT ITS FINEST. - CBS Miami
AS CLOSE TO TRULY IMMERSIVE AS YOU CAN GET. - Orlando Sentinel