God Is A Scottish Drag Queen
Groups of 10 or more save. Call 1.800.461.3333.
Dates
July 29 - July 31, 2022
Closed: July 31, 2022
Theatre
CAA Theatre
651 Yonge St, Toronto

Running Time
2 hours 10 minutes (includes intermission)
Audience Advisory
Theatrical Smoke/Haze, Coarse Language and Religious Themes. Recommended for ages 14+.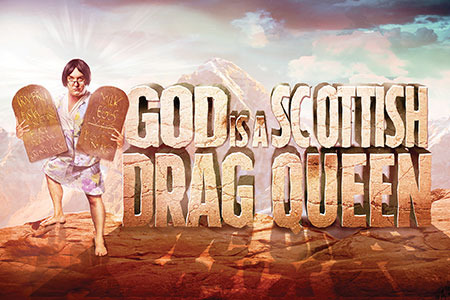 A HILARIOUS TWO ACT COMEDY OF BIBLICAL PROPORTIONS!
God, dressed in a floral power suit, comes down to set the record straight and expound on everything from Noah's Ark to Star Wars and answer humankind's most asked questions in a hilarious and unforgettable night of comedy! Loved by Preachers and Atheists alike, this show has quickly become one of the most popular one man shows touring today and has received critical acclaim for its non-stop brilliant look at pop culture and humanity through the eyes of a silly, foul mouthed, and very loveable Scottish Deity.