Harper Lee's To Kill a Mockingbird
THE HISTORY-MAKING BROADWAY PRODUCTION FROM ACADEMY AWARD®-WINNER AARON SORKIN
Dates
May 28 - June 2, 2024
Theatre
CAA Ed Mirvish Theatre
244 Victoria St, Toronto
ON, M5B 1V8
Performance Schedule
Tuesday May 28, 2024: 7:30PM
Wednesday May 29, 2024: 1:30PM
Wednesday May 29, 2024: 7:30PM
Thursday May 30, 2024: 7:30PM
Friday May 31, 2024: 7:30PM
Saturday June 1, 2024: 2:00PM
Saturday June 2, 2024: 7:30PM
Sunday June 2, 2024: 2:00PM
Running Time
2 hours 50 minutes (includes intermission)
Advisory
This production contains racially explicit language and costuming, references to sexual abuse, and brief gunfire audio. Recommended for ages 12+.
Accessibility Services
For assistance booking special access seats or for information about our Accessibility Services, please call 1.800.461.3333.
Groups
For Group savings on 10-29 tickets, book online or call 1.800.461.3333 for assistance. Restrictions and blackout dates apply.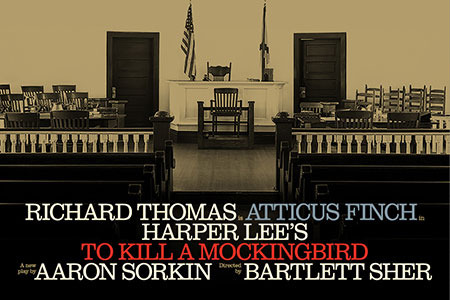 All rise for Academy Award® winner Aaron Sorkin's adaptation of Harper Lee's Pulitzer Prize-winning masterwork. The New York Times Critic's Pick To Kill a Mockingbird is "the most successful American play in Broadway history." (60 Minutes). Rolling Stone gives it 5 stars, calling it "an emotionally shattering landmark production of an American classic," and New York Magazine calls it "a real phenomenon. Majestic and incandescent, it's filled with breath and nuance and soul." With direction by Tony Award® winner Bartlett Sher, To Kill a Mockingbird – "the greatest novel of all time" (Chicago Tribune) – has quickly become "one of the greatest plays in history" (NPR).
It will change how you see the world. - New York Post
Unmissable and unforgettable. All rise for the miracle that is 'Mockingbird.' - Rolling Stone
A game-changing 'Mockingbird.' Genuinely radical and pulsing with relevance. - Chicago Tribune
Harper Lee's To Kill a Mockingbird Calendar