Come From Away
BOOK, MUSIC & LYRICS BY IRENE SANKOFF AND DAVID HEIN
DIRECTED BY CHRISTOPHER ASHLEY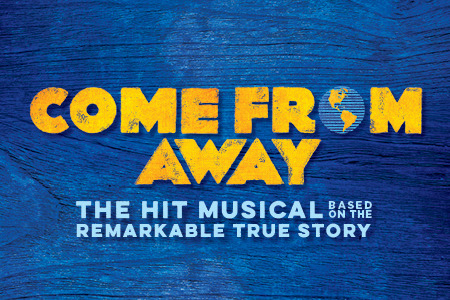 Come From Away is the smash-hit musical that has taken the world by storm, with continuing sold-out, record-breaking engagements on Broadway, in London's West End, Melbourne, and on tour across North America.
This joyous musical shares the incredible real-life story of the 7,000 airplane passengers from all over the world who were grounded in Gander, Newfoundland in the wake of 9/11, and the small community that invited these 'come from aways' into their lives.
Written by Tony®-nominated Canadians Irene Sankoff and David Hein, and featuring Tony®-winning direction by Christopher Ashley, Come From Away "takes you to a place you never want to leave!" (Newsweek).
Come From Away Closes Permanently in Toronto.
The most successful Canadian musical of all time has permanently closed in its hometown. After playing for 855 performances, the Toronto production of Come From Away ended its run on Wednesday, December 22, 2021 at the Royal Alexandra Theatre.
Ticket-holders of the cancelled performances will be contacted and will be offered a transfer of the value of their tickets to account credits, gift cards, or a refund.
A global phenomenon, and you can see why! - The Guardian
Joyous, foot-stomping and heart-warming! - The Toronto Star
It's impossible not to be deeply moved by this savvy and thoroughly entertaining musical. A tonic for our times! - The Hollywood Reporter
It takes all of ten seconds to be in its generous embrace. You stay there for the next 100 minutes: laughing, tapping your foot, wiping away tears, feeling good about humanity – what a rare, welcome feeling that is these days. - The Times London
REPUBLISHED FROM THE STAR
Audience and cast of 'Come From Away' welcome each other back in emotional night at the theatre.
The reopening of "Come From Away" in Toronto began with a two-way standing ovation.
When the cast came onstage Wednesday evening for the opening number, "Welcome to the Rock," the audience jumped to their feet cheering and clapping, and the actors applauded back. The audience also gave a sustained round of applause for the midshow party sequence "Screech In." There was yet another standing ovation during the curtain call.