Come From Away
BOOK, MUSIC & LYRICS BY IRENE SANKOFF AND DAVID HEIN
DIRECTED BY CHRISTOPHER ASHLEY
Dates
Returns December 2021
Theatre
Royal Alexandra Theatre
260 King St W, Toronto
ON, M5V 1J2
Running Time
100 minutes (no intermission)
Recommended Age
10 +
Babes in arms or children under the age of two (2) are not permitted in the theatre.
Audience Advisory
Theatrical Haze and Fog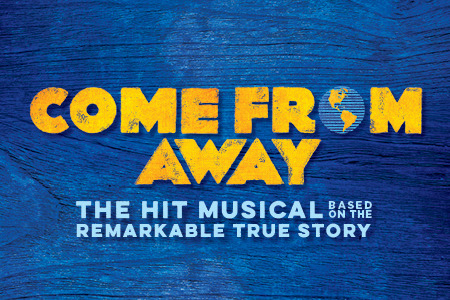 Come From Away is the smash-hit musical that has taken the world by storm, with continuing sold-out, record-breaking engagements on Broadway, in London's West End, Melbourne, and on tour across North America.
This joyous musical shares the incredible real-life story of the 7,000 airplane passengers from all over the world who were grounded in Gander, Newfoundland in the wake of 9/11, and the small community that invited these 'come from aways' into their lives.
Written by Tony®-nominated Canadians Irene Sankoff and David Hein, and featuring Tony®-winning direction by Christopher Ashley, Come From Away "takes you to a place you never want to leave!" (Newsweek).
A global phenomenon, and you can see why! - The Guardian
Joyous, foot-stomping and heart-warming! - The Toronto Star
It's impossible not to be deeply moved by this savvy and thoroughly entertaining musical. A tonic for our times! - The Hollywood Reporter
It takes all of ten seconds to be in its generous embrace. You stay there for the next 100 minutes: laughing, tapping your foot, wiping away tears, feeling good about humanity – what a rare, welcome feeling that is these days. - The Times London
COVID-19 Related FAQ
Are masks required at the theatre?
Yes, all visitors and staff will be required to wear a mask that fully covers the nose, mouth and chin at all times during their visit to the theatre. Masks should fit snugly against the face without gaps; cloth masks should have at least two layers of fabric. Neck gaiters and bandanas are not permitted.
Is a full vaccination required to enter the theatre?
Yes, full proof of vaccination is required.
All patrons 12 years of age or older, upon entry to the theatre, must provide the following documentation:
Government issued ID (i.e. driver's license, health card, student card or passport) that matches the proof of full vaccination documentation.
Receipt of full COVID-19 vaccination issued by the public health authority that administered the vaccine, meaning the full series of a World Health Organization (WHO) approved COVID-19 vaccine or combination of accepted vaccines, received at least 14 days prior to the performance date. Documentation, which can be displayed on a mobile device or printed. For patrons who received their vaccinations in Ontario, documents can be accessed at covid19.ontariohealth.ca.
Patrons who cannot be vaccinated for medical reasons must provide written proof of a medical reason, provided by either a physician or nurse practitioner, along with a negative COVID-19 rapid antigen or PCR test from a healthcare provider taken within 48 hours of the performance start time. Self-administered at-home tests will not be accepted.
Children under the age of 12 must provide a negative COVID-19 rapid antigen or PCR test from a healthcare provider taken within 48 hours of the performance start time
Patrons unable to provide this documentation will not be admitted.
What flexibility are you offering ticket holders?
Read the complete COVID-19 Mirvish Ticket Guarantee. If you, or any member of your party, are in quarantine or isolation, have come in contact with someone with COVID-19, are experiencing any symptoms of COVID-19 or have tested positive for COVID-19, do not come to the theatre. We are offering flexible ticket options prior to the date on your tickets. Please call 1.800.461.3333 or email audienceservices@mirvish.com.
What safety measures are you putting into place?
Our audiences will have the comfort in knowing that new safety measures have been put into place, including: enhanced cleaning procedures, sanitization stations located throughout the theatres and state-of-the-art ventilation systems for robust fresh-air exchange. Visit our Audience Safety Measures for more information.
What Precautions Will Mirvish Be Taking When Reopening?
The safety of our audiences and staff is our priority. A number of new measures will be put in place as part of our reopening plan including: mask-wearing requirements, contactless ticketing, physical distancing throughout the venue, sanitization stations, one way entry and exit of the theatre, enhanced cleaning, contact tracing, and flexible ticket exchange policy. For more details please see the COVID-19 Audience Safety Measures page.
Contact Tracing
For contact tracing purposes, the ticket purchaser will be considered the primary contact for any guests and will be expected to have contact info for each member of their party.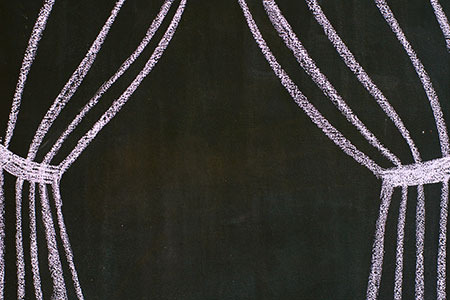 Student Groups
We look forward to welcoming you and your students back to "the Rock" soon!
Come From Away is a perfect choice for your next school field trip. This new musical based on true events is recommended for Grade 7 and up, with curriculum connections to The Arts, Canadian and World Studies, English, History, Social Sciences and Humanities, Language, Social Studies, History and Geography.
Additional enrichment activities and educational resources are available.