The Donmar Warehouse production of
Blindness
a socially distanced sound installation
Dates
September 24 - October 24, 2021
Closed: October 24, 2021
Theatre
Princess of Wales Theatre
300 King Street West, Toronto

Running Time
Approximately 75 minutes - no intermission
Audience Advisory
Blindness includes strong language. The installation includes extended periods of complete blackout, loud noises, and bright flashing lights and strobe in close proximity to visitors. Blindness contains the following themes: discussion of sexual assault, description of an act of physical assault and explorations of psychological trauma. Recommended for ages 15+
Rush Seats
NEW : $29 SAME DAY RUSH TICKETS
Available online the day of the performance. S
ubject to availability. Regular service charges apply. Not valid on previously purchased tickets.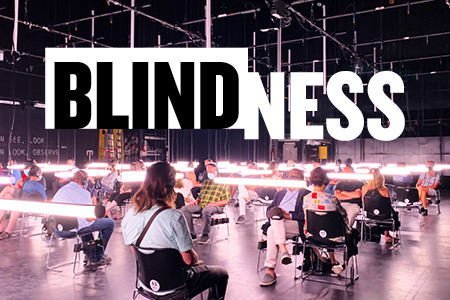 As the lights change at a major crossroads in a city in the heart of Europe a car grinds to a halt. Its driver can drive no more. Suddenly, without warning or cause, he has gone blind. Within hours it is clear that this is a blindness like no other. This blindness is infectious. Within days an epidemic of blindness has spread through the city. The government tries to quarantine the contagion by herding the newly blind people into an empty asylum. But their attempts are futile. The city is in panic.
Award-winning playwright Simon Stephens (The Curious Incident of the Dog in the Night-time, for which he won both the the Tony© and Olivier Awards for Best Play) has adapted Nobel Prize-winner José Saramago's dystopian novel Blindness as a sound installation directed by Walter Meierjohann with immersive binaural sound design by Ben and Max Ringham. Juliet Stevenson voices the Storyteller/Doctor's wife in this gripping story of the rise and, ultimately, profoundly hopeful end of an unimaginable global pandemic.
Subscribers can choose to include Blindness as their first show of the Off-Mirvish Season for dates in the fall. You will be contacted by email for more information.
read full description
ABOUT THE INSTALLATION
Blindness will be "presented" on the stage of the Princess of Wales Theatre and the audience will be seated in "pods" of pairs and single seats spaced eight-feet apart. The Princess of Wales stage is massive: 60-feet deep by 100-feet wide and 120-feet tall."On the stage" literally means that the audience will be seated where the actors would traditionally be; the show will happen around the audience as a "sound installation." This means there will be no actors present. The audience will follow the story solely through an incredible soundscape that includes narration by the illustrious British stage, film and tv actress Juliet Stevenson. The audience will listen to the soundscape through individual headphones that have been thoroughly sanitized.
out of 4! A brilliant, deeply moving and profoundly uplifting experience! - Karen Fricker, Toronto Star
Thrilling... took my breath away. A glorious return to indoor theatre. - J. Kelly Nestruck, The Globe and Mail
out of 5! Brilliant! Juliet Stevenson deserves a special acting award for her performance. Don't be surprised if, like me, you find yourself tearing up a bit thinking about the future – of both the art form you're experiencing and the world itself. - Glenn Sumi, NOW
Mesmerizing! Astonishing! Thrilling! Exquisite! So emotional, I wept hard and quietly behind my mask. I can't think of a better experience to bring us back to the theatre and its incredible possibilities for story-telling, engagement and community. - Lynn Slotkin, The Slotkin Letter
An electrifying, galvanizing and intoxicating production that still resonates within my very soul even as I write this the next morning. - Joe Szekeres, OnStage
A unique and mind-boggling piece of art that is a wonder to witness and a great return to in-person theatre. - Samantha Wu, Mooney on Theatre
Awesome! An extremely visceral and sensory experience. The hair on my arm stood up. - Gurdeep Ahluwalia, CP24 Breakfast
Wow! You've likely never experience theatre quite like this. It's what I love about theatre: to not only see but to also feel. - Sonya Davidson, Toronto Guardian
One of the most unique theatre experiences I have ever had. - Kevin Frankish
An unbelievable sensory and auditory experience. - Liem Vu, Global News


Covid-19 Safety Measures For Blindness
Patrons must bring and wear a non-medical mask, plus remain at least 2 metres apart from other patrons at all times while in the theatre.
Tickets must be booked in advance.
Please do not arrive earlier than a half hour before your ticketed time.
Late arrivals will not be seated under any circumstance.
Each seat is distanced at 2.5 metres apart.
Enhanced cleaning measures have been put into place before, during and after each sound narrative.
Please do not visit the theatre if you feel unwell, are in quarantine, or are experiencing any symptoms of COVID-19.
Please read our FAQ for complete health and safety guidelines.

BLINDNESS FAQ
HOW LONG IS THE SOUND NARRATIVE?
Approximately 75 minutes, without an intermission.
WHAT IS THE AGE RECOMMENDATION?
Due to the subject matter, we recommend this sound narrative for people aged 15 years and older. Blindness includes strong language. The sound installation includes extended periods of complete blackout, loud noises, and bright flashing lights and strobe in close proximity to patrons. Blindness contains the following themes: discussion of sexual assault, description of an act of physical assault and explorations of psychological trauma.
WHAT SOUND OPTIONS ARE AVAILABLE AT EACH SOUND INSTALLATION?
Blindness is a sound installation where audience members wear headphones. It is recorded in binaural sound or more commonly known as surround sound. There are three options available when booking your tickets:
Surround Sound (Binaural Sound)
Binaural sound is stereo audio that is recorded through a dual microphone setup. The goal of recording binaural sound is to create a 3D audio effect that simulates sound as if it is being heard live.
Audio Description
Audio-described content will be available at every sound narrative. Please be sure to book an Audio Described ticket. In an audio described show, audience members can listen to a description of the visual aspects of the performance. It is a verbal commentary that tells visually impaired theatre-goers what is happening physically around them or on stage. Tickets must be purchased in advance.
Monaural
A monaural (not surround sound) is also available for each sound installation. Please be sure to book a Monaural ticket. This method is meant for people who have hearing loss in one ear or the other and would otherwise miss whatever sound was sent to their deaf or hard of hearing ear. Tickets must be purchased in advance.
IS THE THEATRE ACCESSIBLE?
All areas of the theatre and seating area are fully accessible. If you require accessible seating or have accessibility requirements, please call 1.800.461.3333.
CAN I CHOOSE WHERE I SIT?
Yes. Seating is reserved at time of purchase. Each seat is distanced at 2.5 metres apart. If you are purchasing two tickets you should ensure you are attending only with someone in your household or social bubble as you will be seated together. If you are attending on your own you can only purchase a single seat.
HOW WILL I RECEIVE MY TICKETS?
Mobile tickets will be delivered via email at the time of ordering. They can also be accessed through the Mirvish App and by logging into your online account. Mailed tickets are not available.
DO I NEED TO WEAR A MASK?
Yes, all visitors and staff will be required to wear a mask that fully covers the nose, mouth and chin at all times during their visit to the theatre. Masks should fit snugly against the face without gaps; cloth masks should have at least two layers of fabric. Neck gaiters and bandanas are not permitted.
WHAT OTHER MEASURES ARE IN PLACE FOR VISITOR SAFETY?
All staff will be wearing face coverings. There will be a one-way system around the theatre and visitors will be asked to line-up physically distanced indicated by markings on the floor. There will be sanitization stations available throughout the theatre. All seats, headphones, washrooms and public areas will be thoroughly cleaned between each sound installation.
WHAT DO I DO IF I FEEL ILL?
If you, or any member of your party, are in quarantine or isolation, have come in close contact with someone with COVID-19, are experiencing any symptoms of COVID-19 or have tested positive for COVID-19, do not visit the theatre. If you cannot visit the theatre for the above reasons, we are offering flexible ticket exchanges, credit on your Mirvish account, a gift card or a full refund up to 24 hours prior to the date on your tickets. Please call 1.800.461.3333 or email audienceservices@mirvish.com prior to your showtime.
IS A FULL VACCINATION REQUIRED TO ENTER THE THEATRE?
Yes, full proof of vaccination is required.
All patrons 12 years of age or older, upon entry to the theatre, must provide the following documentation:
Government issued ID (i.e. driver's license, health card, student card or passport) that matches the proof of full vaccination documentation.
Receipt of full COVID-19 vaccination issued by the public health authority that administered the vaccine, meaning the full series of a World Health Organization (WHO) approved COVID-19 vaccine or combination of accepted vaccines, received at least 14 days prior to the performance date. Documentation can be displayed on a mobile device or printed. For patrons who received their vaccinations in Ontario, documents can be accessed at covid19.ontariohealth.ca.
Patrons who cannot be vaccinated for medical reasons must provide written proof of a medical reason, provided by either a physician or nurse practitioner, along with a negative COVID-19 rapid antigen or PCR test from a healthcare provider taken within 48 hours of the performance start time. Self-administered at-home tests will not be accepted.
Children under the age of 12 must provide a negative COVID-19 rapid antigen or PCR test from a healthcare provider taken within 48 hours of the performance start time
Patrons unable to provide this documentation will not be admitted.
I AM VACCINATED. DO I NEED TO WEAR A MASK AND FOLLOW THE COVID-19 PROTOCOLS?
For the safety of our staff and other patrons, we ask that everyone wear a mask and follow the safety measures, regardless if you have been partially or fully vaccinated. Proof of vaccination is required.
WHAT AMENITIES WILL BE AVAILABLE AT THE THEATRE?
All bars and concessions will be closed. Washrooms will be open a half hour before curtain, and sanitized regularly throughout the day. Access to washrooms will be limited in order to enforce physical distancing.
WILL I BE SEATED IF I AM LATE FOR MY PERFORMANCE?
Due to the nature of the production, late arrivals will not be seated. There are no refunds for a missed performance. Anyone leaving the auditorium during the performance will not be reseated.
IS THE BOX OFFICE OPEN AND CAN I BUY TICKETS AT THE DOOR?
Tickets are available to purchase online only at www.mirvish.com. If you have any questions about your booking you can call 1.800.461.3333 or email audienceservices@mirvish.com.
CONTACT TRACING
For contact tracing purposes, the ticket purchaser will be considered the primary contact for any guests and will be expected to have contact info for each member of their party.