Dates
July 9 to August 18, 2019
Closed: August 18, 2019
Theatre
CAA Ed Mirvish Theatre
244 Victoria St, Toronto

Running Time
2 hours 40 minutes (includes intermission)
Audience Advisory
Mature themes. Best enjoyed by those thirteen (13) and older. Babes in arms or children under the age of two (2) are not permitted in the theatre. Children older than two (2) should be able to sit quietly in their own seats throughout a performance.
Show Goers Rating
4/5 - 4321 reviews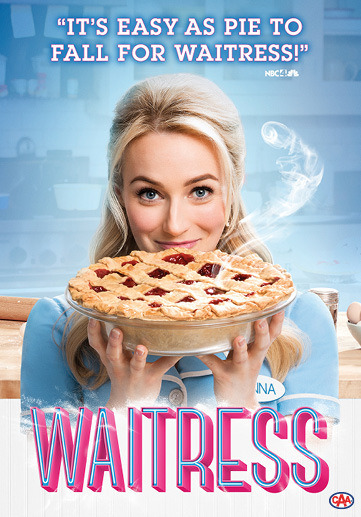 WAITRESS RUSH TICKETS $49
A limited number of rush tickets are available at 9AM day-of-performance, except Wednesday matinee, when they will be available Tuesday at 9AM for $49 (service charge of $9.75 per ticket). Sold online, by phone and in-person. Limit of two (2) tickets per person, per order, per performance. Tickets are subject to availability. E-tickets are not available for offer. Note: Multiple orders will be cancelled.
Save with a group of 10 or more. Call 416-872-1212 or 1-800-461-3333. More information on groups, schools & experiences.
Meet Jenna, a waitress and expert pie-maker who dreams of a way out of her small town and rocky marriage. Pouring her heart into her pies, she crafts desserts that mirror her topsy-turvy life such as "The Key (Lime) to Happiness Pie" and "Betrayed By My Eggs Pie." When a baking contest in a nearby county — and a satisfying run-in with someone new — show Jenna a chance at a fresh start, she must find the courage to seize it. Change is on the menu, as long as Jenna can write her own perfectly personal recipe for happiness.
Brought to life by a groundbreaking, all-female creative team, this Tony Award® -nominated hit features original music and lyrics by 7-time Grammy® nominee Sara Bareilles ("Love Song," "Brave"), a book by acclaimed screenwriter Jessie Nelson (I Am Sam) and direction by Tony Award winner Diane Paulus (Pippin, Finding Neverland).
"Waitress is a little slice of heaven!" says Entertainment Weekly, and is "sweet, sassy and passionate," according to New York Magazine. Don't miss this uplifting and hilarious musical!