Dates
February 27 to March 15, 2020
Closed: March 13, 2020
Theatre
CAA Theatre
651 Yonge St, Toronto

Running Time
60 minutes (no intermission)
Audience Advisory
This production employs the use of theatrical haze & fog. Subject matter includes children held hostage by terrorists. Recommended for ages 10 and older. Babes in arms or children under the age of two (2) are not permitted in the theatre.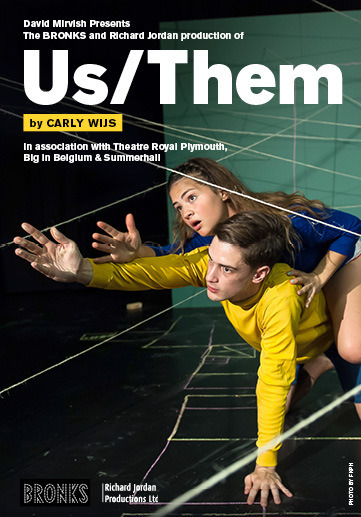 Performances suspended on March 13, 2020 due to COVID-19
---
BRONKS and Richard Jordan Productions
with Theatre Royal Plymouth and Big in Belgium
in association with Summerhall Canadian Premiere
The brilliant, utterly compelling hit play Us/Them – a sell-out at the Edinburgh Fringe and London's National Theatre – tackles the Beslan school siege from the perspective of two wise, indomitable youngsters caught up in the tragedy.
In 2004 a group of terrorists stormed a school in Beslan, Russia, taking hundreds of children hostage. Three days later, many were left dead. By capturing this terrible event from the unfiltered point of view of children, playwright Carly Wijs has created something unexpected and revelatory: a wryly humorous, poignantly matter-of-fact piece of theatre about how the young deal with trauma, and what leads people to do the unthinkable.
The Canadian premiere of US/THEM will star Gytha Parmentier and Roman Van Houtven.