THE ORIGINAL LONDON CAST DIRECT FROM THE WEST END
The Shark is Broken
Groups of 10 or more save. Call 1.800.461.3333 and ask about our payment plan.
Dates
September 25 - November 6, 2022
Theatre
Royal Alexandra Theatre
260 King St W, Toronto
ON, M5V 1J2
Performance Schedule
Tuesday - Saturday: 8PM
Wednesday: 1:30PM
Saturday & Sunday: 2PM
No performance Wed Sept 28 at 1:30PM / Added performance Thu Sept 29 - 1:30PM
Running Time
90 minutes (no intermission)
Audience Advisory
This production features strong language and mature content. Recommended for ages 14+.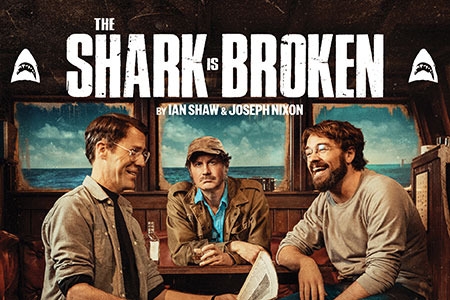 Martha's Vineyard, 1974: shooting on 'Jaws' has stalled. The film's lead actors – Robert Shaw, Roy Scheider and Richard Dreyfuss – are stuck on a boat, at the mercy of foul weather and a faulty mechanical co-star. Awash with alcohol and ambition, three hammered sharks start to bare their teeth…
Nominated for Best Comedy Play at the 2022 Olivier Awards, The Shark is Broken received both critical and audience acclaim when it ran at the Ambassadors Theatre, West End from October 2021 – February 2022. Co-written by Robert Shaw's son Ian Shaw (who also stars in the show) and Joseph Nixon, this brilliantly funny play, directed by Guy Masterson, reveals the hilarious and moving behind-the-scenes drama on one of Hollywood's biggest blockbusters.
A BEAUTIFUL MINIATURE OF A PLAY INSPIRED BY JAWS. - THE TIMES
THIS PLAY PACKS PLENTY OF BITE! - METRO
The Shark is Broken Calendar