A Tribute to Johnny Cash
Starring Shawn Barker
The Man in Black
Dates
November 29 to December 11, 2016
Closed: December 11, 2016
Theatre
CAA Theatre
651 Yonge St, Toronto

Running Time
120 minutes (includes intermission)
Audience Advisory
Mature language, use of haze and a single loud noise. Recommended for ages 15 plus.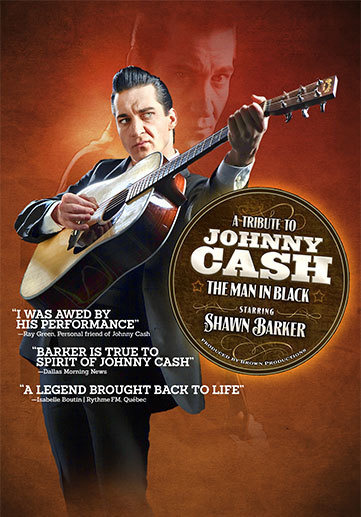 Close your eyes and imagine the unique sound of Johnny Cash, as if it were live and for the first time in the early 1960's. Now open your eyes and experience this great singer songwriter recreated on stage in the hit musical tribute: The Man in Black, A Tribute to Johnny Cash.
Read More
Widely acclaimed by the general public and critics alike, the star of The Man in Black show, Shawn Barker, is considered as the pre-eminent Johnny Cash tribute artist as well as an accomplished musician and singer songwriter. Having an uncanny resemblance to the younger Cash, his portrayal is stunningly accurate and remarkable authentic.