Canadian Broadway Star CHILINA KENNEDY and Award-Winning Israeli Actor SASSON GABAY
The Band's Visit
Dates
September 17 to October 20, 2019
Closed: October 20, 2019
Theatre
CAA Ed Mirvish Theatre
244 Victoria St, Toronto

Running Time
100 minutes (no intermisssion)
Audience Advisory
Theatrical haze/fog, strobe light effects. Recommended for ages ten (10) and up. Babes in arms or children under the age of two (2) are not permitted in the theatre.
Show Goers Rating
4/5 - 3861 reviews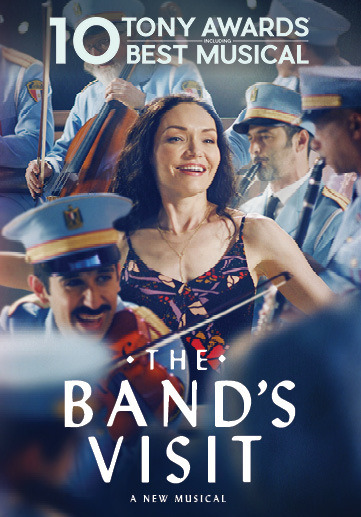 THE BAND'S VISIT RUSH TICKETS $39
Rush seats may be available in selected areas of the theatre priced at only $39 each (a $5 per ticket service charge will be applied for online sales). Tickets go on sale online at 9AM the day of the performance, except for Wednesday 1:30PM performance - which will be available Tuesday at 9AM.
Limit of two (2) tickets per person, per order, per performance.
No print-at-home for online sales. Tickets must be picked up at the theatre box office no earlier than 30 minutes before showtime with presentation of credit card used to purchase.
Tickets are subject to availability.
Note: Multiple orders will be cancelled.
Canadian Premiere - The eight men of the Alexandria Ceremonial Police Orchestra arrive in Israel from Egypt. They have been booked by an Arab cultural center in Petah Tikva, but through a miscommunication (because Arabic has no "p" sound, it is usually replaced with "b"), the band takes a bus to Beit Hatikva, a town in the middle of the Negev Desert.
When the Egyptians arrive at this sleepy Israeli town they soon realize their mistake. Unfortunately there is no transportation out of the town until the next day, and because the town is so small there are no hotels for them to spend the night in.
The band members dine at a small restaurant where the owner, Dina, makes arrangements for them to stay the night at her apartment, at her friends' apartment, and in her restaurant.
While the various hosts provide each band member with shelter, food, music and companionship, there is opportunity for them to share details about each other's lives and cultures.
Eventually they each discover their common humanity, despite being from two separate cultures and nations. Delicate new friendships are forged and a mutual understanding and acceptance blossoms. For two of the band members their friendships with the locals verge on the romantic.
The Band's Visit beautifully and poignantly explores the unspoken longing and connection we strive to share with each other, even as we reach across the cultural and national divides that may separates us.
The cast of world-class performers is led by award-winning Israeli actor Sasson Gabay, star of the original film and the Broadway production, and Chilina Kennedy, known best for her historic run as Carole King in Broadway's Beautiful – The Carole King Musical.