Olivier Award Winner 2016 - Best Entertainment & Family Show
Olivier Award Winner 2016 - Best Entertainment & Family Show
Showstopper! The Improvised Musical
Dates
June 7 to June 25, 2017
Closed: June 25, 2017
Theatre
CAA Theatre
651 Yonge St, Toronto

Running Time
1 hour 50 minutes (includes intermission)
Audience Advisory
Recommended for ages 10 and older. Partial haze.
Show Goers Rating
4/5 - 254 reviews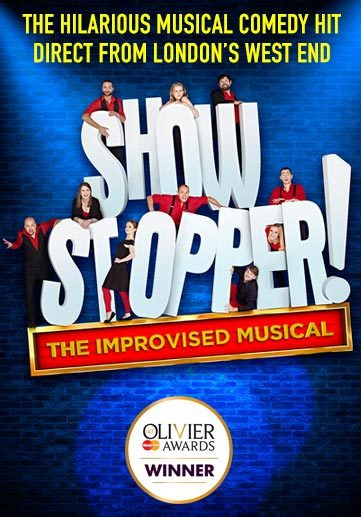 Presented by James Seabright, Kevin McCollum, Corey Ross/Starvox Entertainment and Julius Green by arrangement with Suzanna Rosenthal for Showstopper Productions.
A new musical is born at every performance of this incredible Olivier Award winning show, each created on the spot by the acclaimed musical comedians The Showstoppers. Audience suggestions are transformed instantly into all-singing, all-dancing shows with unpredictable and hilarious results.

Read More
With critically acclaimed West End seasons, a BBC Radio Four series and a decade of festivals and touring to their name, The Showstoppers have delighted audiences around the world with their ingenious, unique blend of comedy, musical theatre and spontaneity.


Direct from London for three weeks only, this amazing team juggles so deftly with musical styles, choreography and comedy that conspiracy theories abound about how it's done. Don't miss their North American debut!