David Mirvish Presents The Factory Theatre Production of Salt-Water Moon
A CANADIAN CLASSIC
Salt-Water Moon
Dates
October 12 to 29, 2017
Closed: October 29, 2017
Theatre
CAA Theatre
651 Yonge St, Toronto

Running Time
90 minutes (no intermission)
Audience Advisory
Suitable for ages 10 and older.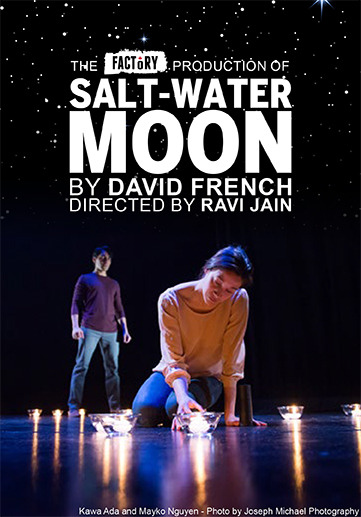 By David French
Directed by Ravi Jain
A CANADIAN CLASSIC
Ambition tore them apart. Can the stars guide them back together?
The First World War is over and every day, the villages of Newfoundland are abandoned for a new life in the big city. Under the light of the moon, two former lovers meet to confront their past choices and contemplate a possible future—together.
Award winning director Ravi Jain has re-imagined David French's beloved Canadian classic about love, loss, and reconciliation with spellbinding results. Factory Theatre's critically acclaimed smash-hit production comes back to Toronto to ask the question, "Can you ever truly return home?"