Room
Groups of 10 or more save. Call 1.800.461.3333 and ask about our payment plan.
Dates
April 5 - May 8, 2022
Closed: May 8, 2022
Theatre
Princess of Wales Theatre
300 King Street West, Toronto

Running Time
2 hours 30 minutes (includes intermission)
Audience Advisory
Contains strobe lighting, haze effects and coarse language. Deals with mature themes, including kidnapping, rape, stillbirth, attempted suicide and psychological trauma. Recommended for audiences 16+.
$29 Same Day Rush Tickets
A limited number of tickets will be available for sale online at 9AM and by phone (see hours) on each day of performance*. Tickets can also be purchased in-person at the Princess of Wales box office. Tickets are located in select seats in the orchestra and dress circle. Limit of 2 tickets per person. Subject to availability. Not valid on previously purchased tickets. Use code ROOMRUSH. *Service charge of $5 per ticket applies for online and phone sales. BUY RUSH SEATS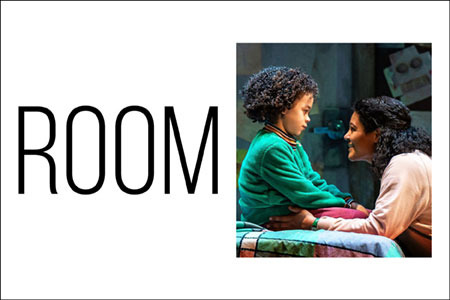 Emma Donoghue's bestselling novel Room has now been adapted as a new play with songs by Scottish songwriters Kathryn Joseph and Cora Bissett. Previously adapted by Donoghue for the screen, the film won Academy Awards®, Golden Globes and BAFTAs.
Kidnapped as a teenage girl, Ma has been locked inside a purpose built room in her captor's garden for seven years. Her five year old son, Jack, has no concept of the world outside and happily exists inside Room with the help of Ma's games and his vivid imagination where objects like Rug, Lamp and TV are his only friends. But for Ma the time has come to escape and face their biggest challenge to date: the world outside Room.
You will not want to miss this "story that is in some ways a harrowing one, that brings many in the audience to tears. Yet is also a tremendously beautiful, vivid and uplifting show about the power of a mother's love." (The Scotsman)
A co-production with Covent Garden Productions and the Grand Theatre, London, Canada.
SOME RESOURCES
Distress Centres of Greater Toronto | www.dcogt.com
Assaulted Women's Helpline | www.awhl.org
Stop Violence Against Women | www.domesticviolenceinfo.ca
Support In Your Community | www.ementalhealth.ca/Ontario
Domestic/Intimate Partner Resources | www.toronto.ca
United Nations Ending Violence Against Women | www.un.org


Alexis Gordon is riveting. - The Globe & Mail
Room soars! Astonishingly moving.

Visually arresting and emotionally rich.

The cast is uniformly superb. Alexis Gordon as Ma is a triumph.

- Toronto Star
Seldom is a play adapted from a novel as fulfilling and rich an experience as the original read, but Room is. - The London Free Press

Emma Donoghue's adaptation of her novel works beautifully onstage, and the songs capture heightened moments with sensitivity. A story of survival and love – something we all need to hear more of at this time. - NOW Magazine