The Unauthorized Harry Experience - A Parody by Dan and Jeff
Potted Potter 2018
Dates
June 13 to July 22, 2018
Closed: July 22, 2018
Theatre
CAA Theatre
651 Yonge St, Toronto

Running Time
70 to 85 minutes (no intermission)
Audience Advisory
This production employs haze, strobe lights and loud noises. Suitable for ages 6 and up. Babes in arms or children under the age of two (2) are not permitted in the theatre. Children older than two (2) should be able to sit quietly in their own seats throughout a performance.
Show Goers Rating
4/5 - 1121 reviews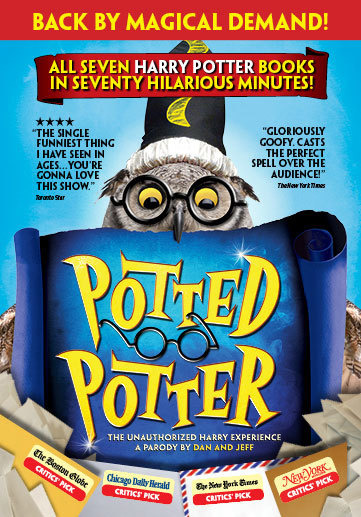 Starvox Entertainment and Potted Productions Present
Returning to Toronto for the fourth time, Potted Potter: The Unauthorized Harry Experience – A Parody by Dan and Jeff takes on the ultimate challenge of condensing all seven Harry Potter books (and a real life game of Quidditch) into seventy hilarious minutes.
A Critics' Pick by the DA Critics' Pick by the Daily Herald, New York Times, New York Magazine, Time Out London, Washington Post, and Boston Globe, the show won the prestigious 2012 Olivier Award nomination for Best Entertainment & Family Show, playing to sold-out houses worldwide.
This fantastically funny show features all your favourite characters, a special appearance from a fire-breathing dragon, endless costumes, brilliant songs, ridiculous props, and a generous helping of Hogwarts magic!