The Musical Stage Company production of Next to Normal
2009 TONY AWARD® WINNER!
Next To Normal
Dates
April 26 to May 19, 2019
Closed: May 19, 2019
Theatre
CAA Theatre
651 Yonge St, Toronto

Running Time
2 hrs 20 mins (includes intermission)
Audience Advisory
Mature Language and adult situations. SFX: Haze and Possible use of Strobe Lighting. Smoking on stage of non-tobacco products. Recommended for ages fourteen (14) and older. Babes in arms or children under the age of two (2) are not permitted in the theatre.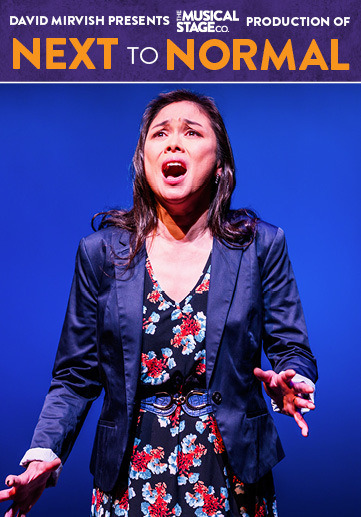 The Musical Stage Company production of NEXT TO NORMAL
Book & Lyrics by BRIAN YORKEY
Music by TOM KITT
Directed by PHILIP AKIN
Musical Staging by Tracey Flye
Music Direction by Lily Ling
2009 TONY AWARD® WINNER!
Winner of three Tony® Awards, including Best Musical Score, and the 2010 Pulitzer Prize for Drama, NEXT TO NORMAL explores a suburban household affected by mental illness. With a gripping story and a surging contemporary rock score, NEXT TO NORMAL is a raw depiction of a family in crisis trying to overcome the past.
Dora Award-winner Philip Akin directs an exhilarating new production of this favourite contemporary musical featuring a powerhouse ensemble of Canada's top performers and starring internationally acclaimed actress Ma-Anne Dionisio (Miss Saigon, Les Misérables).
"An impressive achievement, a heartfelt entertainment" (Associated Press), NEXT TO NORMAL has been praised for "expanding the scope of subject matter for musicals" (Pulitzer Prize Committee).
STARRING
TROY ADAMS as Dan Goodman
BRANDON ANTONIO as Gabe Goodman
NATHAN CARROLL as Henry
MA-ANNE DIONISIO as Diana Goodman
LOUISE PITRE as Doctor Madden
STEPHANIE SY as Natalie Goodman