Dates
March 15 to April 23, 2017
Closed: April 23, 2017
Theatre
Royal Alexandra Theatre
260 King St W, Toronto

Running Time
2 hours 20 minutes (including intermission)
Audience Advisory
Loud recorded bomb effects and smoking of e-cigars. Elegant nudity. Haze & flashing lights. Suitable for ages 12 plus.
Show Goers Rating
4/5 - 5603 reviews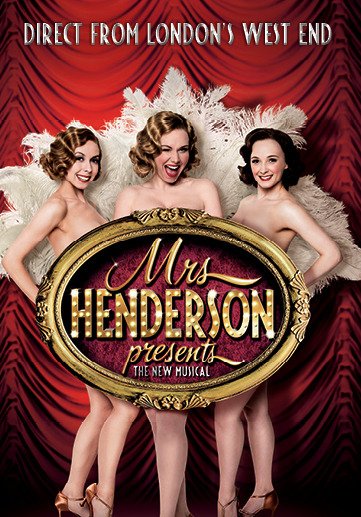 Direct from London's West End comes the new hit musical MRS HENDERSON PRESENTS.
It's London, 1937, and recently widowed eccentric, Laura Henderson, is looking for a way of spending her time and money when her attention falls on a run down former cinema in Great Windmill Street. Hiring feisty impresario Vivian Van Damm to look after the newly renovated Windmill Theatre, the improbable duo present a bill of non-stop variety acts. But as war looms something more is required to boost morale and box office... When Mrs Henderson comes up with the idea of The Windmill Girls — glamorous young women posing as nude statues — audiences flock.
Read More
And as the Blitz hits London, The Windmill provides a refuge for all, boasting the spirit-raising slogan "We Never Close".
Contains elegant nudity.