Harry Potter and the Cursed Child
Groups of 15 or more save. Call 1.800.461.3333 and ask about our payment plan.
Dates
Arrives May 31, 2022
Theatre
CAA Ed Mirvish Theatre
244 Victoria St, Toronto
ON, M5B 1V8
Performance Schedule
Tuesday – Saturday at 7PM
Wednesday & Saturday at 12:30PM
Sunday at 1PM
Running Time
3 hours 30 minutes (includes intermission)
Ticket Prices
Tickets from $69
Audience Advisory
Theatrical haze and fog. Open flame and loud noises. Recommended for ages 8+.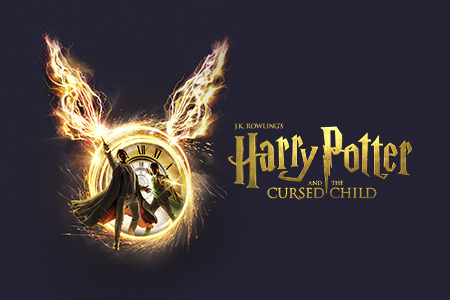 It's Time to Believe in Magic
A newly staged, one show magical experience will arrive at the CAA Ed Mirvish Theatre on May 31, 2022.
Harry Potter and the Cursed Child originally cast a spell over the world as an epic two-part event. Now, the show has been boldly restaged as one singular performance by the award-winning creative team. With just one ticket in hand, audiences will enjoy all the adventure the continuation of Harry's story entails in one magical afternoon or evening.
19 years after Harry, Ron and Hermione saved the wizarding world, they're back on a most extraordinary new adventure – this time, joined by a brave new generation that has only just arrived at the legendary Hogwarts School of Witchcraft and Wizardry. Prepare for spectacular spells, a mind-blowing race through time, and an epic battle to stop mysterious forces, all while the future hangs in the balance.
Based on an original new story by J.K. Rowling, Jack Thorne and John Tiffany, Harry Potter and the Cursed Child is a play by Jack Thorne, directed by John Tiffany.
Harry Potter and the Cursed Child features movement by Steven Hoggett, set by Christine Jones, costumes by Katrina Lindsay, music & arrangements by Imogen Heap, lighting by Neil Austin, sound by Gareth Fry, illusions & magic by Jamie Harrison, music supervision & arrangements by Martin Lowe. Canadian casting by Dayton/Walters Casting CSA, CDC with additional consultation by Jim Carnahan Casting, CSA.
The Toronto production of Harry Potter and the Cursed Child is produced by David Mirvish, Sonia Friedman Productions, Colin Callender and Harry Potter Theatrical Productions.

Harry Potter Faq
When will tickets go on sale?
Tickets for Harry Potter and the Cursed Child will go on sale Wednesday, December 1, 2021 at 9:45AM online at mirvish.com.
Make sure you have an account at mirvish.com and know your password. If you don't remember your password, reset it now. Once logged in, check and update any personal information including your mailing address in advance. ​​
As another option, download the Mirvish App. You can purchase tickets to all our upcoming shows including Harry Potter and the Cursed Child the same way as you would on your desktop computer. Download is free and available through the Apple App Store or Google Play.
What is Queue-it?
When tickets go on sale, to make ticket purchasing fair and easy, we will be using QUEUE-IT, a virtual waiting room system.
If you join QUEUE-IT before the appointed onsale time, all users already in the waiting room will be randomly assigned a place in line.
Why is it random? The randomization of the queue allows the purchase of tickets to be as fair as possible and provides protection against brokers and ticket re-sellers. Our goal is to make seats only available to genuine theatregoers, not those who will grab tickets and hold them hostage at prices higher than the face value of the tickets.
All users who join the queue after 10AM will be added to the end of the queue. There is no advantage to arriving very early, as long as you are there before 10AM.
What is the reimagined production?
The show has been boldly restaged by the original award-winning creative team, exclusively for its return to North America. With just one ticket in hand, you'll enjoy the continuation of Harry's story in one magical afternoon or evening. Do hold onto the edge of your seat though, as this spellbinding spectacular will whisk you back to Hogwarts and beyond your imagination for a one-of-a-kind journey that's everything you hoped for—and more.
Is the CAA Ed Mirvish theatre accessible?
Stair access is required for portions of the theatre, however the main lobby, with services and barrier-free washroom facilities, is accessible via the Victoria Street wheelchair lift. Accessible seating is available on the Orchestra level. See our Venue Access Guides and Maps for more information.
I have physical access needs, who do I talk to about where I sit?
Please contact Mirvish Audience Services at 1.800.461.3333 to book your special access tickets or to learn more about any of our Access Services.
How can I find out more about the show and ticket information?
Sign up to the official newsletter at HarryPotteronStage.com/ca. Don't forget to follow Harry Potter and the Cursed Child on Facebook, Instagram and Twitter to directly to stay up to date with the latest news!
What is the age suitability?
The show is suitable for ages 8 and up. All persons entering the theatre, regardless of age, must have a ticket. Children under 4 are not permitted in the theatre. Please note that children under the age of 15 will not be admitted to the theatre without the accompaniment of an adult.
What is the running time?
The reimagined staging of Harry Potter and the Cursed Child is an epic adventure like nothing ever seen on stage. Packed with thrilling stage magic and electrifying storytelling, this unique, spellbinding theatrical event runs approximately 3 hours and 30 minutes including an intermission.
Is my Harry Potter and the Cursed Child gift card still valid?
Yes. Your Harry Potter and the Cursed Child gift card is still valid. Keep your card safe, as it will unlock priority access to tickets when they are made available. Register your gift card here. You will be notified by email when you can purchase tickets.
Leaves the audience gasping in wonder at the magic of it all. - Time Magazine