Harry Potter and the Cursed Child
Groups of 10+ save! Find out more about Group Bookings Don't Miss The Magic! Harry Potter and the Cursed Child ends its record-breaking run on July 2, 2023
Theatre
CAA Ed Mirvish Theatre
244 Victoria St, Toronto

Running Time
3 hours 20 minutes (includes intermission)
Performances begin promptly at the stated time. Please plan to arrive early.
Audience Advisory
Theatrical haze and fog. Open flame and loud noises. Not recommended for children under 8 years of age. All persons entering the theatre, regardless of age, must have a ticket.
GalaPro
Real-time closed captioning and audio description right to your own personal mobile device. Available for all performances now through July 2. Visit the GalaPro page for more info.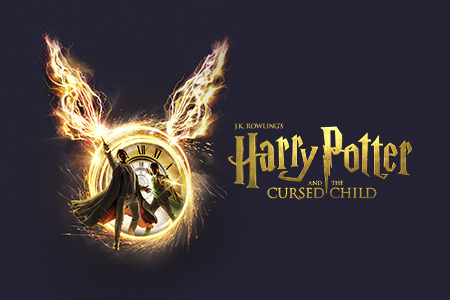 It's Time To Believe In Magic.
Adventure runs in the family. When Harry Potter's head-strong son Albus befriends the son of his fiercest rival, Draco Malfoy, it sparks an unbelievable new journey for them all—with the power to change the past and future forever. Prepare for a mind-blowing race through time, spectacular spells, and an epic battle, all brought to life with the most astonishing theatrical magic ever seen on stage. "It will dazzle your senses, expand your heart, and keep you buzzing for hours afterwards." (Toronto Star)
Experience the wizarding world like never before from the moment you arrive. The entire theatre has been transformed with hidden surprises to discover around every corner. "Takes theatrical craftsmanship to a whole new level!" (The Globe and Mail).
Based on an original new story by J.K. Rowling, Jack Thorne and John Tiffany, Harry Potter and the Cursed Child is a play by Jack Thorne, directed by John Tiffany.
The Toronto production of Harry Potter and the Cursed Child is produced by David Mirvish, Sonia Friedman Productions, Colin Callender and Harry Potter Theatrical Productions.


GO SEE IT!
It will blow your mind. - TORONTO STAR
TRULY MAGICAL. AN UNBELIEVABLE MARVEL THAT WILL LEAVE YOU IN AWE - WHETHER OR NOT YOU ARE A HARRY POTTER FAN. - GLOBAL
MIND-BOGGLING.
MY JAW GENUINELY DROPPED. - THE GLOBE AND MAIL
ABSOLUTELY STUNNING.
A must-see for long-time fans and new. - CITY
SPELLBINDING! SATISFYING AND MESMERIZING THEATRE.
This show is not to be missed. - CP24
Harry Potter Faq
What is the reimagined production?
The show has been boldly restaged by the original award-winning creative team, exclusively for its return to North America. With just one ticket in hand, you'll enjoy the continuation of Harry's story in one magical afternoon or evening. Do hold onto the edge of your seat though, as this spellbinding spectacular will whisk you back to Hogwarts and beyond your imagination for a one-of-a-kind journey that's everything you hoped for—and more.
How can I find out more about the show and ticket information?
Sign up to the official newsletter at HarryPotteronStage.com/ca. Don't forget to follow @CursedChildCAN on Facebook, Instagram and Twitter to directly to stay up to date with the latest news!
Are rush seats available?
What is the age suitability?
Harry Potter and the Cursed Child is not recommended for children under 8 years of age.
MINORS 15 YEARS AND YOUNGER
Any person entering the auditorium, regardless of age, must hold a valid ticket and have an assigned seat. Young children may be seated in a parent's, guardian's or caregiver's lap only if they have a ticket and an assigned seat beside that occupied by the parent. Children aged 15 or under will not be allowed entry to an event unless they are supervised, for the duration of the event, by a parent or carer. Infants 2 years of age and under will not be admitted to the auditorium.
A ticket-holder must ensure that the holder and any minors or others for whom the holder is responsible conduct themselves appropriately and in a manner which is not determined by Mirvish Productions or its representatives to be objectionable or disturbing to other patrons.
What is the running time?
The reimagined staging of Harry Potter and the Cursed Child is an epic adventure like nothing ever seen on stage. Packed with thrilling stage magic and electrifying storytelling, this unique, spellbinding theatrical event runs approximately 3 hours and 20 minutes including an intermission.
Is the CAA Ed Mirvish theatre accessible?
Stair access is required for portions of the theatre, however the main lobby, with services and barrier-free washroom facilities, is accessible via the Victoria Street wheelchair lift. Accessible seating is available on the Orchestra level. See our Venue Access Guides and Maps for more information.
I have physical access needs, who do I talk to about where I sit?
Please contact Mirvish Audience Services at 1.800.461.3333 to book your special access tickets or to learn more about any of our Access Services.