Graeme Of Thrones The Parody
Dates
October 11 to 23, 2016
Closed: October 23, 2016
Theatre
CAA Theatre
651 Yonge St, Toronto

Running Time
2 hours (includes intermission)
Audience Advisory
Adult content. Suitable for ages 17 plus. Show contains strobe lights, haze, fog and loud noises.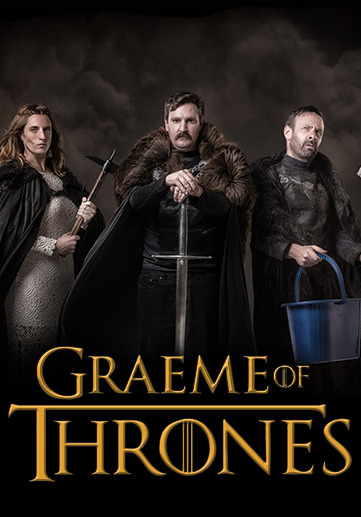 Starvox Entertainment Presents Graeme of Thrones The Parody
In this critically-acclaimed theatrical journey through the Seven Kingdoms, direct from sold out shows in London's West End, avid 'Thrones' fan Graeme just wants to recreate his favourite fantasy saga on stage - aided and abetted by his best friend Paul and the girl he used to fancy at school - Bryony. He doesn't quite have the same budget as the TV show, or as many cast members, or the performance skill required, but he's sure George RR Martin would approve – and that's what matters. But when news reaches them that an influential theatrical producer is in the building, Graeme decides that this could be his big break - as long as nothing goes wrong...
Read More
Created by the UK's top comedy writers, Graeme of Thrones is an original and un-authorised parody on the international phenomenon that is Game of Thrones. A treat for fans and an introduction for the unenlightened.