Dates
November 5 - November 7, 2021
Theatre
Princess of Wales Theatre
300 King Street West, Toronto
ON, M5V 1J2
Performance Schedule
Friday November 5 - 8PM
Saturday November 6 - 8PM
Sunday November 7 - 8PM


Running Time
2 hrs (includes intermission)


Audience Advisory
There may be strong and imaginative language.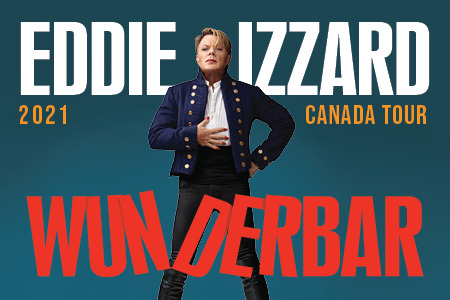 Eddie Izzard will bring her critically-acclaimed Wunderbar World Tour to Canada this Fall.
Wunderbar is a delicious insight into the surreal and fantastical world of Eddie Izzard touching on life, love, history and even her theory of the universe.
Wunderbar began life at La Nouvelle Seine, a floating theatre in Paris on the Seine where Izzard began to improvise her new show in French. She then flipped countries and continued developing the show improvising in Berlin in German. After more development in English, Izzard shared Wunderbar with the world, touring in 45 countries and performing the show in four languages… But made sure the language fit the country!
This is Izzard's first tour of Canada since her 2013 Force Majeure tour. Force Majeure made comedy history having played in 45 countries including all 50 US States AND in four languages, making it the most extensive comedy show ever.
Izzard is arguably one of today's top comedians. With her brand of keenly intelligent humor that ranges from world history to historical politics, sexual politics, mad ancient kings, and chickens with guns, she has built an extraordinary fan base that transcends age, gender, and race.
SOCIALLY DISTANCED SEATING AT THE THEATRE
The shows will be performed at the Princess of Wales Theatre in a socially distanced seating configuration of only 999 seats per performance (the theatre's full capacity is 2000 seats). Seats will be available in groupings of twos and fours. There are a limited number of single seats available. Audiences and staff will all be masked for their entire time in the venue. Find out more by reading the FAQ section below.
Eddie Izzard on her life and career in comedy

Covid-19 Safety Measures and FAQ For Eddie Izzard
HOW WILL I RECEIVE MY TICKETS?
Mobile tickets will be delivered at purchase. They can also be accessed through the Mirvish App and by logging into your online account. Mailed tickets are not available.
ARE MASKS REQUIRED AT THE THEATRE?
Yes, all visitors and staff will be required to wear a mask that fully covers the nose, mouth and chin at all times during their visit to the theatre. Masks should fit snugly against the face without gaps; cloth masks should have at least two layers of fabric. Neck gaiters and bandanas are not permitted.
IS A FULL VACCINATION REQUIRED TO ENTER THE THEATRE?
The requirement of our patrons to be fully vaccinated also means that all of our staff, artists and crew must be fully vaccinated to enter and work at the Mirvish theatres.
Proof of Vaccination – All patrons 12 years of age or older, upon entry to the theatre, must provide the following documentation:
Government issued ID (i.e. driver's license, health card or passport) that matches the proof of full vaccination documentation.
Receipt of full COVID-19 vaccination OR enhanced vaccine certificate issued by the public health authority that administered the vaccine, meaning the full series of a World Health Organization (WHO) approved COVID-19 vaccine or combination of accepted vaccines, received at least 14 days prior to the performance date. Documentation, which can be displayed on a mobile device or printed. For patrons who received their vaccinations in Ontario, documents can be accessed at covid19.ontariohealth.ca.
Patrons who cannot be vaccinated for medical reasons must provide written proof of a medical reason, provided by either a physician or nurse practitioner. Patrons who cannot be vaccinated for religious or creed reasons must provide a letter from a faith leader outlining membership with religion/creed and reason for being unvaccinated. In both circumstances, these documents need to be accompanied by a completed Covid-19 Exemption Form available by emailing audienceservices@mirvish.com, plus a negative COVID-19 rapid antigen or PCR test from a healthcare provider taken within 48 hours of the performance start time. Self-administered at-home tests will not be accepted.
Children under the age of 12 must provide a negative COVID-19 rapid antigen or PCR test from a healthcare provider taken within 48 hours of the performance start time.
Patrons unable to provide this documentation will not be admitted.
WHAT SAFETY MEASURES ARE YOU PUTTING INTO PLACE?
Our audiences will have the comfort in knowing that new safety measures have been put into place, including: requirement for all staff and patrons to be fully vaccinated, enhanced cleaning procedures, sanitization stations located throughout the theatres and state-of-the-art ventilation systems for robust fresh-air exchange. Visit our Audience Safety Measures for more information.
WHAT AMENITIES WILL BE AVAILABLE AT THE THEATRE?
All bars and concessions will be closed. Washrooms will be open a half hour before curtain, and sanitized regularly throughout the day. Access to washrooms will be limited in order to enforce physical distancing.
WHAT DO I DO IF I FEEL ILL?
Please do not visit the theatre if you, or any member of your party, are in quarantine or isolation, have come in contact with someone with COVID-19, are experiencing any symptoms of COVID-19 or have tested positive for COVID-19. If you need to cancel your tickets, we are offering flexible ticket exchanges or a full-refund up to 24 hours prior to the showing. Please call 1.800.461.3333 or email audienceservices@mirvish.com.
CONTACT TRACING
For contact tracing purposes, you, as the ticket purchaser will be considered the primary contact for your group and will be expected to have contact info for each member of your party. Data collected for the purpose of selling a ticket and contact tracing will be kept in accordance with our privacy policy.