Dates
March 25 to April 9, 2017
Closed: April 9, 2017
Theatre
CAA Theatre
651 Yonge St, Toronto

Running Time
75 minutes (no intermission) followed by a 15 minute talkback session.

TALKBACK - We invite you and your guests to stay in your seats after the show for a Q&A with the cast. These talkback sessions are always popular and provide context and more information about the play.
Audience Advisory
WARNING: Depictions of extreme violence and coarse language. Employs strobe effects. Recommended for ages 14 plus.
Show Goers Rating
5/5 - 606 reviews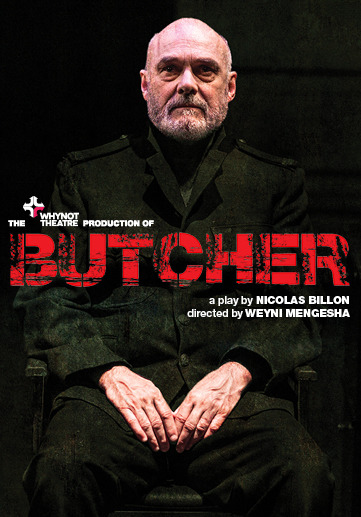 David Mirvish presents the Why Not Theatre production of BUTCHER
By Nicolas Billon
Directed by Weyni Mengesha
"Not for the faint of heart" - Globe & Mail
WARNING: Depictions of extreme violence and coarse language. Who is the Butcher? A mysterious old man is dropped off at a police station, wearing a foreign military uniform, and a Santa hat, with a meat hook dangling around his neck. As a lawyer, a police officer, and a translator struggle to unravel the truth, they uncover a past that won't stay buried, and a decades old quest for justice that must be served. Haunted by events a world away, no one is who they seem to be.
Read More
Written by the Governor General Award-winning playwright Nicolas Billon, Why Not Theatre's production of BUTCHER made its Toronto premiere this past season to audience and critical acclaim.