Boy Falls From The Sky
Groups of 10 or more save. Call 1.800.461.3333 and ask about our payment plan.
Dates
April 19 - May 29, 2022
Closed: May 29, 2022
Theatre
Royal Alexandra Theatre
260 King St W, Toronto

Running Time
80 minutes (no intermission)
Audience Advisory
Recommended for ages 12+. Use of theatrical haze. Some profanity.
$29 Same Day Rush Tickets
$29 SAME DAY RUSH TICKETS

A limited number of tickets will be available for sale online at 9AM and by phone (
see hours
) on each day of performance*. Tickets can also be purchased in-person at the
Royal Alex box office
. Tickets are located in select seats in the rear orchestra, rear dress circle and front balcony. Limit of 2 tickets per person. Subject to availability. Not valid on previously purchased tickets. Use code
BFFTSRUSH
. *Service charge of $5 per ticket applies for online and phone sales.
BUY RUSH SEATS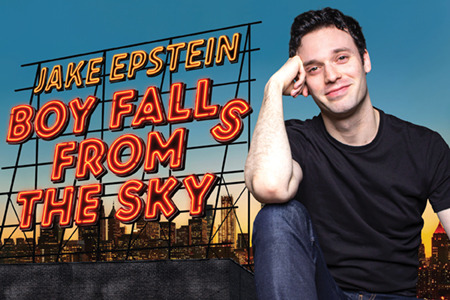 Jake Epstein's been "that guy from Degrassi", starred in the US National Tours of Spring Awakening and American Idiot, played Spider-Man on Broadway and originated the lead role of Gerry Goffin (Carole King's husband) in Beautiful: The Carole King Musical. Not bad for a kid who dreamed about performing on Broadway in the back seat of his parents' minivan on their annual family road trip to NYC.
But the thing about dreams is, they don't always go as planned. Through a series of entertaining and soul-baring stories and songs, ranging from touring the US, to surviving Spider-Man, to withstanding steroid shots and Broadway boos, Epstein shares the rejection, stage fright and heartbreak behind a seemingly successful career in this showbiz tell-all. Boy Falls From The Sky is a must-see for anyone who's ever tried to go after their dreams.
Performed by Jake Epstein, David Atkinson, Lauren Falls, Justin Han
Written by Jake Epstein
Directed by and developed with Robert McQueen
Orchestrations, Arrangements and Musical Supervision by Daniel Abrahamson
Music Direction by David Atkinson
Set and Prop Design by Brandon Kleiman
Lighting Design by Amber Hood
Sound Design by William Fallon
Stage Management by Collette Berg and Erika Morey
Apprentice Stage Management by Emmanuelle So
Music Contracting by Mark Camilleri (IMAGINE Sound Studios)
Music Copyist by Jake Schindler
Produced for Past Future Productions by Derrick Chua and Jake Epstein
(out of 4)

A Must-See! A Rousing Showbiz Tell-All.
You'll Laugh While You Cry.

- The Toronto Star
(out of 5)

Soars To Great Heights! Moving. Heartfelt. Ingenious. Brave, Truthful and Triumphant Performance.

- NOW Magazine
ABSO-FRIGGIN'-LUTELY NOTE-PERFECT!
A KNOCKOUT PIECE OF WRITING.
A WINNER. - Intermission Magazine
Joyous, Moving and Funny! - The Slotkin Letter
What to expect during your visit to the theatre
ARE MASKS REQUIRED AT THE THEATRE?
Yes, all visitors and staff will be required to wear a mask that fully covers the nose, mouth and chin at all times during their visit to the theatre. Masks should fit snugly against the face without gaps; cloth masks should have at least two layers of fabric. Neck gaiters and bandanas are not permitted.
IS A FULL VACCINATION REQUIRED TO ENTER THE THEATRE?
Performances in our theatres are at full-capacity seating.

The requirement of our patrons to be fully vaccinated also means that all of our staff, artists and crew must be fully vaccinated to enter and work at the Mirvish theatres.
Proof of Vaccination - All patrons, 12 years of age or older, upon entry to the theatre, must provide the following documentation:
Enhanced vaccine certificate (QR code) of full COVID-19 vaccination issued by the public health authority that administered the vaccine, meaning the full series of a World Health Organization (WHO) approved COVID-19 vaccine or combination of accepted vaccines, received at least 14 days prior to the performance date. Documentation can be displayed on a mobile device or printed. For patrons who received their vaccinations in Ontario, documents can be accessed at covid19.ontariohealth.ca.
Government issued ID (i.e. driver's license, health card or passport) that matches the proof of full vaccination documentation.
Children under the age of 12 are not required to provide receipt of vaccination.
Nine First Nations communities are excluded from providing an enhanced vaccination receipt. Members of these communities are still required to show a vaccine receipt and a form of ID.
Visitors from outside of Canada who do not have access to a QR code from their home jurisdiction or country that can be successfully scanned by the Verify Ontario app may show their own country's or jurisdiction's vaccine receipt(s) to prove they are fully vaccinated and must show their valid non-Canadian passport or NEXUS card as ID.
Medical / Clinical Trial Exemptions -Patrons unable to be fully vaccinated as they have an active medical exemption or are participating in a Health Canada approved COVID-19 vaccine clinical trial as specified in Ministry of Health guidance, need to provide the following documentation:
Enhanced medical/clinical trial exemption vaccination certificate with official QR code.
Government issued ID (i.e. driver's license, health card or passport) that matches the proof of full vaccination documentation.
Patrons unable to provide this documentation will not be admitted. Vaccine receipts without a QR code are no longer accepted as valid proof of vaccination.
WHAT AMENITIES WILL BE AVAILABLE AT THE THEATRE?
Bars and concessions are open. Food and beverage may only be consumed in the lobby areas. Coat checks are open.
WHAT DO I DO IF I FEEL ILL?
Please do not visit the theatre if you, or any member of your party, are in quarantine or isolation, have come in contact with someone with COVID-19, are experiencing any symptoms of COVID-19 or have tested positive for COVID-19. If you need to cancel your tickets, we are offering flexible ticket exchanges up to 24 hours prior to the showing. Please call 1.800.461.3333.