Dates
April 24 to June 3, 2018
Closed: June 3, 2018
Theatre
CAA Ed Mirvish Theatre
244 Victoria St, Toronto

Running Time
2 hours 20 minutes (includes intermission)
Audience Advisory
Recommended for ages five (5) and older. Babes in arms or children under the age of two (2) are not permitted in the theatre. Children older than two (2) should be able to sit quietly in their own seats throughout a performance.
Show Goers Rating
4/5 - 8944 reviews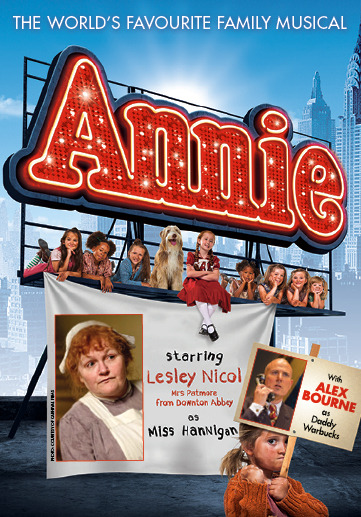 The world's favourite family musical ANNIE makes its long-awaited return to Toronto this spring, starring television and stage star LESLEY NICOL.

Best known as the beloved Mrs. Patmore in the hit television series Downton Abbey, Lesley makes her Canadian debut as the tyrannical Miss Hannigan in this stunning new production direct from London's West End. ALEX BOURNE (Mamma Mia!, Chicago) co-stars as Daddy Warbucks.

Set in 1930s New York during The Great Depression, brave young Annie is forced to live a life of misery at Miss Hannigan's orphanage. Her luck soon changes when she's chosen to spend a fairytale Christmas with famous billionaire, Oliver Warbucks. Meanwhile, spiteful Miss Hannigan has other ideas and hatches a plan to spoil Annie's search for her true family…

With its Tony® award-winning book and score, including the unforgettable songs It's The Hard-Knock Life, Easy Street and Tomorrow – this is a show not to be missed!

© 2016 CAA South Central Ontario. All rights reserved. Serving Members in Southern and Central Ontario.