Countdown to May 31st
What to expect:
1. Before you arrive: Check your tickets for performance date and time. Give yourself enough time to travel to the theatre. Parking is available near the theatre at the Green P.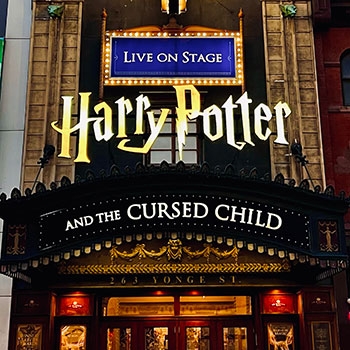 2. When you arrive: Doors open one hour prior to curtain. The performance will begin promptly at the stated ticket time and latecomers will be seated at the discretion of management. Allow enough time for any security or vaccination checks if applicable.
3. Shop: There are three gift shop areas in the CAA Ed Mirvish Theatre - one is located in the Yonge Street link, one adjacent to the main entry point off Victoria Street and one on the Mezzanine Level. Look in the concessions areas for any special themed Harry Potter beverages and confectionery.
4. Magical Moments: The entire CAA Ed Mirvish Theatre has been transformed to bring the magic to life the moment you arrive. There are several enchanting photo-ops around the theatre including the Patronus Mural in the Main Lobby. Check out our Selfie Alley in the Yonge Street link decorated with Hogwarts House Banners, and a special vintage British Phone Booth.
5. Hotel Partners: Add an overnight stay with our partner hotel, the Sheraton Centre Toronto. Make it a special staycation and book an overnight stay at the newly renovated Sheraton Centre Toronto. Centrally-located, it's a 10-minute walk to the theatre. Did you know that Ontario residents can get back up to 20% on eligible accommodation expenses with the new, temporary Ontario Staycation Tax Credit?
6. Safety measures: We are prioritizing your safety. Learn more about how Mirvish Productions is ensuring a safe Cursed Child experience. Please review our entry requirements carefully as our measures may be beyond those set forth by the province of Ontario.