Show Run
February 27, 2020 - March 13, 2020
Season
2019/20 Off-Mirvish Season
Producer/Director
BRONKS and Richard Jordan Productions with Theatre Royal Plymouth and Big in Belgium in association with Summerhall Canadian Premiere.
Cast
Starring Gytha Parmentier and Roman Van Houtven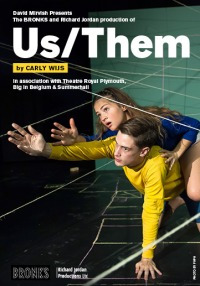 The original run of Us/Them was scheduled from February 27 - March 15, 2020. It was suspended due to Covid-19 on March 13, 2020.
Room and Indecent, also scheduled as part of the Off-Mirvish season were cancelled.