The Two Worlds of Charlie F
Author(s)
A new play by Owen Sheers
Venue
Princess of Wales Theatre
Show Run
February 25, 2014 - March 9, 2014
Producer/Director
Garry McQuinn and Amanda Faber Production. Original Producer and Executive Producer Alice Driver. Directed by Stephen Rayne based on the concept by Alice Driver.
Cast
The cast includes ex-servicemen and women - Bombadier (Rtd) Gareth Crabbe, Rifleman (Rtd) Daniel Shaw, Marine Cassidy Little and Lieutenant Col (Rtd) Stewart Hill, with Stephen Shaw, Maurilla Simpson, Darren Swift, Ashliegh Young, Terri Ann Bobb-Baxter, Tom Colley, Miriam Cooper, Tomos Eames, Venetia Maitland, Owen Oldroyd, and Lily Phillips.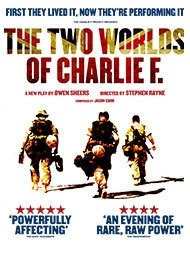 Off Mirvish Series 2013/14
Real life stories performed by British Servicemen and women.