Summer The Donna Summer Musical
Author(s)
Book by Colman Domingo, Robert Cary and Des McAnuff.
Venue
Princess of Wales Theatre
Show Run
March 10, 2020 - March 13, 2020
Producer/Director
Directed by Des McAnuff and choreographed Sergio Trujillo.
Cast
Dan'yelle Williamson, Alex Hairston and Olivia Elease Hardy star as Donna Summer.

Steven Grant Douglas as "Bruce Sudano," John Gardiner as "Neil Bogart," and Erick Pinnick as "Andrew Gaines." The ensemble is comprised of Jennifer Byrne, Jay Garcia, Tamrin Goldberg, Cameron Anika Hill, Brooke Lacy, Trish Lindström, Mara Lucas, Jo'Nathan Michael, DeQuina Moore, Kyli Rae, Crystal Sha'nae, De'Ja-Simone, Sir Brock Warren, Candace J. Washington, Brittany Nicole Williams and Jennifer Wolfe.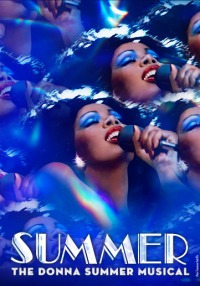 The original run of Summer was scheduled from March 10 - 22, 2020. It was suspended due to Covid-19 on March 13, 2020.