Dates
October 31 to November 9, 2019
Closed: November 9, 2019
Theatre
CAA Ed Mirvish Theatre
244 Victoria St, Toronto

Running Time
3 hours (includes one 15 minute intermission)
Audience Advisory
Haze/Fog and strobe lighting. In Italian with English surtitles.

Babes in arms or children under the age of two (2) are not permitted in the theatre. Children older than two (2) should be able to sit quietly in their own seats throughout a performance.
Show Goers Rating
4/5 - 279 reviews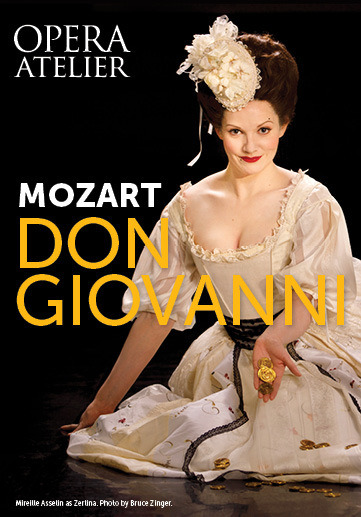 RUSH TICKETS $25 | ED MIRVISH THEATRE

A limited number of obstructed view rush seats may be available in Rows U and V of the Orchestra, priced at only $25. Rush tickets are available to purchase on the day of the performance, in-person only at the Ed Mirvish Theatre box office (beginning at 2pm on Friday and 12pm on Saturday).
Limit of two (2) tickets per person, per order, per performance.
All Rush seats have an obstructed view of the surtitles (performed in Italian, with English surtitles).


Don't miss this outrageous comedy of an incorrigible young playboy who blazes a path to his own destruction in a single day. Firmly grounded in the tradition of the Italian Commedia dell'arte, this glittering new production took Toronto by storm in 2011. Join Opera Atelier — Canada's premier period opera/ballet company — for this stunning revival, featuring Douglas Williams as Don Giovanni.
Starring: Colin Ainsworth, Gustav Andreassen, Mireille Asselin, Stephen Hegedus, Carla Huhtanen, Olivier Laquerre, Meghan Lindsay, Douglas Williams
With Artists of Atelier Ballet and Tafelmusik Baroque Orchestra.
Performed in Italian with English Surtitles.
Opera Atelier's custom surtitle screen is hung just above the set and below the proscenium on the most downstage pipe where we project the English surtitles.