While We Wait...Guest Spot
I asked Denise to tell us more about her pandemic story and how she's used movement and music to get through it but also how she's used it to connect with other people at a time when connections are so difficult to find.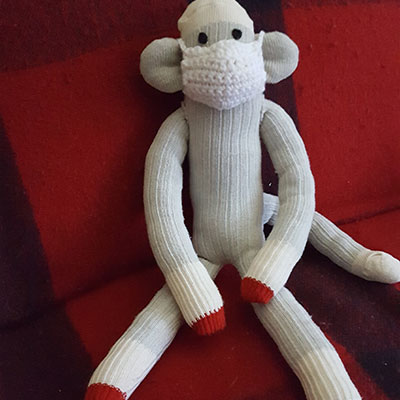 Like Desiree, I am a crafter. When we were sent home last March, with no idea of when we'd return, I immediately soothed my nerves by making a sock monkey with its own crocheted face mask. It helped a bit. But the looming question still remained: What now? I knew I wanted to try and use this time to focus on something meaningful. And for me, music and dancing have always been that.
They have been my constant companions through good times and bad, so I knew that I'd be leaning on them heavily to help me get through. I'm so lucky that my partner in music is also my partner in life. Andrew and I (aka the roots music duo William & Polly) sing and play music at home every day. Within a week or so of being home Andrew told me about this thing called "Zoom" he'd started learning about. We'd done house concerts before, so why not try this out? On March 28, 2020 we scheduled a time for our concert and were amazed to see friends and family from all over — New Brunswick, Nova Scotia, Ontario, Quebec, California, Japan — show up on our Zoom screen. It was apparent how much it meant to people to connect and enjoy music together, especially in those early days that were so uncertain and strange. We were invited to join the roster at Ask Me And I'll Sing Canada (a program that connects musicians with residents in long-term and hospice care who can request a song and be serenaded with it via video). This has been a truly rewarding experience, and we've also discovered that seniors really love Johnny Cash and George Jones (which, lucky for us, is right in our musical wheelhouse).
We've joined neighbors for socially distanced front yard jams, and recorded loads of "Happy Birthday" music videos for loved ones. We were guest artists at Lawrence Park Community Church, recording songs for a series of movie-themed sermons in January. Some of our song videos have been shared on Facebook too — something we had never even thought of doing before Covid — and it has been touching (and surprising) to discover how something so simple can make a difference in somebody's day.
So that was music taken care of. But what about dancing? When theatres shut down last March, so did all the dance studios and gyms. I had recently begun teaching classes in the Nia Technique , a holistic movement practice (blending dance arts, martial arts, and healing arts) that has been an important personal practice of mine for many years. All of my upcoming classes were cancelled, along with a special training event I was registered for in April. I had a strong sense that I wanted to further my education as a movement facilitator but with everything shut down, I didn't know how.
Read More
And just like that, a friend tipped me off to a new opportunity — online training in The Groove Method. This is a dance fitness modality that I had taken a couple of classes in a year before and which had struck me as something that I'd love to be able to teach someday. This was the first ever online Groove Facilitator training, delivered via Zoom over eight weeks in April/May 2020. Almost one hundred people from all over the world participated. It was amazing. And it was so much fun! All of us, including the trainers, were surprised to discover how well the Zoom platform worked. From there, more and more opportunities to train online started popping up as everyone began to pivot to this new medium. While so many other things in my life were closed down, my chances to learn and dance opened up more widely than ever. Along with online classes, I participated in the "ONE Around The World Video Project" that brought together Nia teachers from all over the globe. I've just embarked on my fourth round of online training since last March (along with my best friend, Felicia, who lives in Montreal — another bonus). This training looks at how trauma impacts the body, and how movement can help us to heal. I understand and appreciate, even more deeply, how meaningful dance is. Now, more than ever, we all need to move.
The last step in my Groove training was my practicum: I had to teach at least six classes and had one year to complete that process. I waited for dance studios to open up but Toronto remained in lockdown. Once again, it was Zoom to the rescue! Setting up proper sound online is not exactly easy, but after much trial and error, helpful advice from fellow teachers and some new equipment, my tiny home studio was born. I held online Groove classes last month and, much like our house concert a year ago, friends and family from near and far showed up — this time to unite through dance. Some Mirvish colleagues (and their kids) joined in too. After so much time apart, it was amazing to let loose and share some joy and laughter together on the virtual dance floor.
Nothing will replace live theatre, or the magic of sharing music and dancing in person. While we wait for the world to reopen, I am so grateful for all of the ways I've been able to stay connected to the things that are meaningful to me, and for the new avenues I've discovered to share them with others. The question before me is no longer, what now? The question I find myself asking these days is, what's next?
Desiree: Well Denise, I can't wait to see what you do next and I thank you for sharing this inspiring story.
Have you turned to arts and crafts during this pandemic? We'd love to hear from you. We'd especially like to see photos of your creations. Don't be shy. It's time you blew your own horn and shared your work with others. If we feature your work in future issues of Meanwhile, we'll reward you a $100 Mirvish gift card. Email us at creations@mirvish.com.