While We Wait...Guest Spot
Now, crafting isn't everyone's jam. My dear friend and long-time colleague Sarah Sisko does not share my love of craft but what we do share is pandemic-induced crippling anxiety and a great desire to break free of its clutches. Sarah has found a place in her home where the fear does not follow, and that place is her kitchen. In search of a coping strategy, Sarah has found so much more. Read below to hear her story, it's a good one.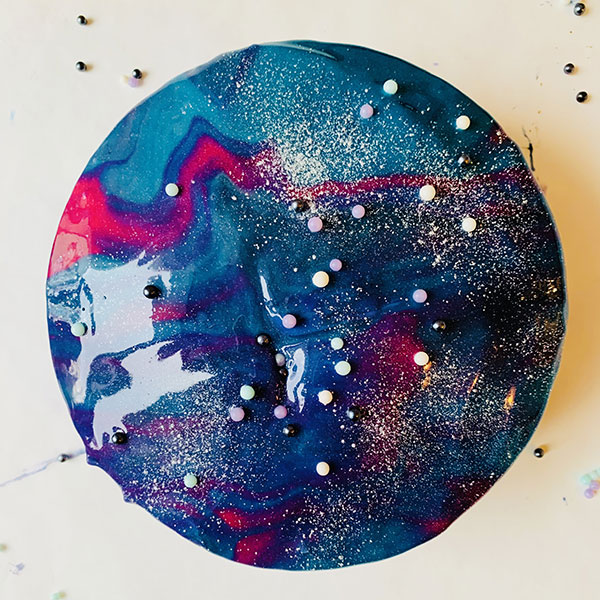 When we were forced to close our theatres and sent home from the office indefinitely, I found myself much like everyone else: in a state of shock. Many other emotions soon followed over this initial period of stasis however one in particular was at the forefront: FEAR!
To cope, much like others, I sought refuge in pasta, wine and yes, I will admit it... Tik Tok. So after I decided to put down the glass of red wine and stop doom scrolling on my phone, we came across a Netflix show that I could watch with my two young children that wasn't G-rated or animated. Zumbo's Just Desserts, created by the Australian star pâtissier Adriano Zumbo, transported us into a Willy Wonka-style world and offered us an escape while confined to our condo.
From there we were hooked on baking shows.
Cooking has always been something I've enjoyed. An appreciation for good food started at a young age hanging around the kitchen with my Croatian grandmother, Baka. Dining at her house was always an event and a celebration of flavours. She taught me the importance of quality ingredients, patience and hard work. Before she passed, we spent many hospital visits in her final months going over her recipes which she entrusted to my sisters and I to protect and to carry on.
So, after watching endless baking challenges and seeing other amateur baker's creations, I thought why not? I could give some of these things a go, while I unexpectedly have this time on my hands (well as much time as a parent with young kids can have).
The first challenge was cinnamon rolls drizzled with cream cheese icing. I surprised myself, my kids and husband and it propelled me to try new things that I thought I couldn't possibly do: Montreal-style bagels, baguettes and even a mirror glaze galaxy cake for my daughter's eighth birthday. I needed to up the wow factor for her, feeling guilty we weren't able to have a proper party with her family and peers.
By this point during the "great pause" we found ourselves in, I decided to join the sourdough baking craze and grow a starter I purchased from Kensington Sourdough. After a week of nurturing and growing the starter it was a success! From there, I was obsessed with making focaccias in various varieties , boules, slider buns and loaves that kept us going and yes the waistline growing. I shared a lot with my neighbours and father.
Progressing to each challenge I imposed on myself and desperate to engage my children and limit their screen time we explored further in the world of baking and confections.
My daughter was delighted when I tried French macarons for the first time. It was a triumph given the fact that while making these precious little desserts, my food processor started smoking, the thermometer broke, my toddler was screaming the whole time and it was a full moon!
My baking impressed my sister who is a sought-after food stylist in the city and whenever she was in a bind and needed 100 slider buns, a Japanese rainbow mille cake, pink floral swiss rolls, souffle pancakes, coco bread etc., I was happily there to assist her.
My most recent challenges have included a pavlova and a cheese burek from scratch that I know would make my Baka proud.
It is great to feel inspired and have something to focus on until we return to the stage.
Wow, Sarah, just wow! You have taken pandemic baking to new levels. I have been lucky enough to be on the receiving end of Sarah's cooking and baking and I cannot wait to get back there! We both received our first vaccine doses today within 15 minutes of each other so I'm counting down the days till we can share a home baked treat and a much missed hug! Thank you so much for sharing this lovely tale with us.
Until next time…
Have you turned to arts and crafts during this pandemic? We'd love to hear from you. We'd especially like to see photos of your creations. Don't be shy. It's time you blew your own horn and shared your work with others. If we feature your work in future issues of Meanwhile, we'll reward you a $100 Mirvish gift card. Email us at creations@mirvish.com.