Dates
December 11, 2018 to January 6, 2019
Closed: January 6, 2019
Theatre
CAA Theatre
651 Yonge St, Toronto

Running Time
90 minutes (no intermission)
Audience Advisory
This production employs the use of flashing lights. Babes in arms or children under the age of two (2) are not permitted in the theatre.
Show Goers Rating
5/5 - 884 reviews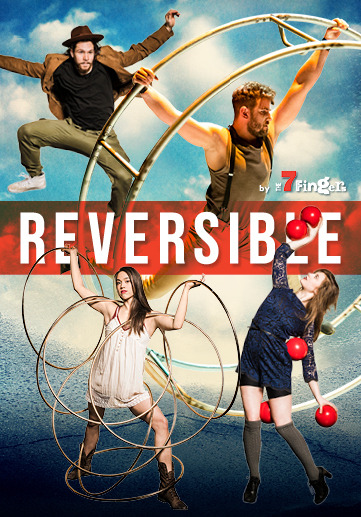 The 7 Fingers (Traces, Cuisine & Confessions) returns to Toronto with a brand new show!
Through a unique, riveting mix of theatre, circus, dance, music and acrobatics, REVERSIBLE is dedicated to a generation who forged the world that we live in today and whose stories might hold the key to a better tomorrow.
Be prepared for moments of pure grace, yielding to rushes of adrenaline, as a cast of multi-talented performers travel through time and space.
It will give you goosebumps!


REVERSIBLE's original music is now available on Bandcamp !