Dates
September 17, 2019 to January 5, 2020
Closed: January 5, 2020
Theatre
CAA Theatre
651 Yonge St, Toronto

Running Time
2 hours (includes intermission)
Audience Advisory
Theatrical haze, strong language and mature subject matter.

Recommended for ages fourteen (14) and older. Babes in arms or children under the age of two (2) are not permitted in the theatre.
Show Goers Rating
4/5 - 4740 reviews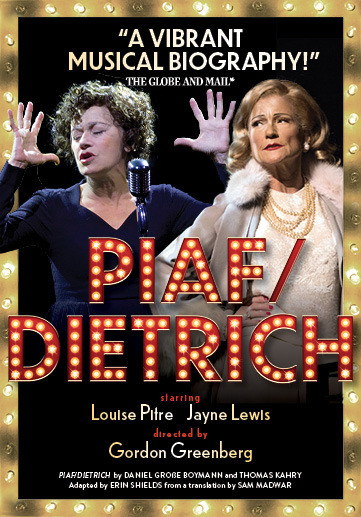 Toronto Premiere
Edith Piaf and Marlene Dietrich were two of the greatest names in international show business during the early 20th century. The first of them enchanted the world with her singing, her moving life story, and unostentatious appearance, while the other did the same with her beauty, elegance, and bewitching stare, being one of the first European actresses to become popular in Hollywood.
Based on a true story, Piaf/Dietrich is a musical drama that explores the intimate and entertaining portrait of a fascinating friendship between show business legends that began under the most unlikely of circumstances and lasted their entire lives.
Featuring 20 of their unforgettable hits including La Vie En Rose, Milord, and Where Have All The Flowers Gone, and starring two of Canada's leading actors, this will be an unforgettable theatrical experience.
Starring LOUISE PITRE & JAYNE LEWIS