Terra Bruce Productions presents
No Change in the Weather
Closed: November 27, 2021
Dates
November 19 - November 27, 2021
Closed: November 27, 2021
Theatre
CAA Theatre
651 Yonge St, Toronto

Running Time
2 hours 40 minutes (includes intermission)
Audience Advisory
Use of fog. Recommended for all ages.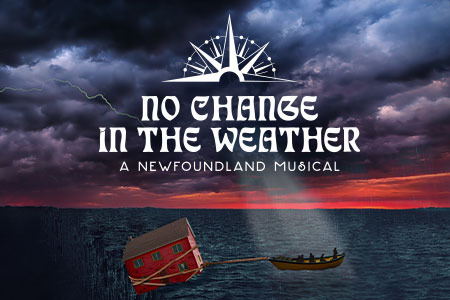 Peggy O'Brien has died. Her family and friends sneak her corpse out of the funeral home (and tanning salon) and back across the water to her family home, on the unsettled island of God's Back Pocket. As this brood of body snatchers wake Peggy into the light a wandering American and newly stationed Constable from Quebec find themselves in the middle of a family racket that exposes decades of pettiness, secrets, and enough familial bad blood to ruin every Christmas for eternity. Estranged brothers, a child of unknown parentage, and a slide show of Newfoundland and Labrador's most farcical political blunder, Churchill Falls, collide with the supernatural in this outlandish east coast musical that is sure to have you tapping your toes, and shaking your bewildered head.
What to expect during your visit to the theatre
ARE MASKS REQUIRED AT THE THEATRE?
Yes, all visitors and staff will be required to wear a mask that fully covers the nose, mouth and chin at all times during their visit to the theatre. Masks should fit snugly against the face without gaps; cloth masks should have at least two layers of fabric. Neck gaiters and bandanas are not permitted.
IS A FULL VACCINATION REQUIRED TO ENTER THE THEATRE?
Performances in our theatres are at full-capacity seating.

The requirement of our patrons to be fully vaccinated also means that all of our staff, artists and crew must be fully vaccinated to enter and work at the Mirvish theatres.
Proof of Vaccination - All patrons, 12 years of age or older, upon entry to the theatre, must provide the following documentation:
Enhanced vaccine certificate (QR code) of full COVID-19 vaccination issued by the public health authority that administered the vaccine, meaning the full series of a World Health Organization (WHO) approved COVID-19 vaccine or combination of accepted vaccines, received at least 14 days prior to the performance date. Documentation can be displayed on a mobile device or printed. For patrons who received their vaccinations in Ontario, documents can be accessed at covid19.ontariohealth.ca.
Government issued ID (i.e. driver's license, health card or passport) that matches the proof of full vaccination documentation.
Children under the age of 12 are not required to provide receipt of vaccination.
Nine First Nations communities are excluded from providing an enhanced vaccination receipt. Members of these communities are still required to show a vaccine receipt and a form of ID.
Visitors from outside of Canada who do not have access to a QR code from their home jurisdiction or country that can be successfully scanned by the Verify Ontario app may show their own country's or jurisdiction's vaccine receipt(s) to prove they are fully vaccinated and must show their valid non-Canadian passport or NEXUS card as ID.
Medical / Clinical Trial Exemptions -Patrons unable to be fully vaccinated as they have an active medical exemption or are participating in a Health Canada approved COVID-19 vaccine clinical trial as specified in Ministry of Health guidance, need to provide the following documentation:
Enhanced medical/clinical trial exemption vaccination certificate with official QR code.
Government issued ID (i.e. driver's license, health card or passport) that matches the proof of full vaccination documentation.
Patrons unable to provide this documentation will not be admitted. Vaccine receipts without a QR code are no longer accepted as valid proof of vaccination.
WHAT AMENITIES WILL BE AVAILABLE AT THE THEATRE?
Bars and concessions are open. Food and beverage may only be consumed in the lobby areas. Coat checks are open.
WHAT DO I DO IF I FEEL ILL?
Please do not visit the theatre if you, or any member of your party, are in quarantine or isolation, have come in contact with someone with COVID-19, are experiencing any symptoms of COVID-19 or have tested positive for COVID-19. If you need to cancel your tickets, we are offering flexible ticket exchanges up to 24 hours prior to the showing. Please call 1.800.461.3333.