Terra Bruce Productions presents
No Change in the Weather
Dates
November 19 - November 27, 2021
Theatre
CAA Theatre
651 Yonge St, Toronto
ON, M4Y 1Z9
Performance Schedule
November 19 - 21
Fri & Sat. 8PM; Sun 2PM
November 23 - 27
Tue 8PM; Wed 1:30PM & 8PM; Thu 8PM; Fri 8PM; Sat. 2PM & 8PM
Running Time
2 hours (plus intermission)
Audience Advisory
Use of fog. Recommended for all ages.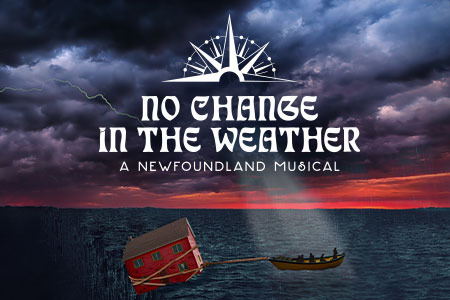 Peggy O'Brien has died. Her family and friends sneak her corpse out of the funeral home (and tanning salon) and back across the water to her family home, on the unsettled island of God's Back Pocket. As this brood of body snatchers wake Peggy into the light a wandering American and newly stationed Constable from Quebec find themselves in the middle of a family racket that exposes decades of pettiness, secrets, and enough familial bad blood to ruin every Christmas for eternity. Estranged brothers, a child of unknown parentage, and a slide show of Newfoundland and Labrador's most farcical political blunder, Churchill Falls, collide with the supernatural in this outlandish east coast musical that is sure to have you tapping your toes, and shaking your bewildered head.
COVID-19 Related FAQ
Are masks required at the theatre?
Yes, all visitors and staff will be required to wear a mask that fully covers the nose, mouth and chin at all times during their visit to the theatre. Masks should fit snugly against the face without gaps; cloth masks should have at least two layers of fabric. Neck gaiters and bandanas are not permitted.
Is a full vaccination required to enter the theatre?
Yes, full proof of vaccination is required.
All patrons 12 years of age or older, upon entry to the theatre, must provide the following documentation:
Government issued ID (i.e. driver's license, health card, student card or passport) that matches the proof of full vaccination documentation.
Receipt of full COVID-19 vaccination issued by the public health authority that administered the vaccine, meaning the full series of a World Health Organization (WHO) approved COVID-19 vaccine or combination of accepted vaccines, received at least 14 days prior to the performance date. Documentation, which can be displayed on a mobile device or printed. For patrons who received their vaccinations in Ontario, documents can be accessed at covid19.ontariohealth.ca.
Patrons who cannot be vaccinated for medical reasons must provide written proof of a medical reason, provided by either a physician or nurse practitioner, along with a negative COVID-19 rapid antigen or PCR test from a healthcare provider taken within 48 hours of the performance start time. Self-administered at-home tests will not be accepted.
Children under the age of 12 must provide a negative COVID-19 rapid antigen or PCR test from a healthcare provider taken within 48 hours of the performance start time
Patrons unable to provide this documentation will not be admitted.
What flexibility are you offering ticket holders?
Read the complete COVID-19 Mirvish Ticket Guarantee. If you, or any member of your party, are in quarantine or isolation, have come in contact with someone with COVID-19, are experiencing any symptoms of COVID-19 or have tested positive for COVID-19, do not come to the theatre. We are offering flexible ticket options prior to the date on your tickets. Please call 1.800.461.3333 or email audienceservices@mirvish.com.
What safety measures are you putting into place?
Our audiences will have the comfort in knowing that new safety measures have been put into place, including: enhanced cleaning procedures, sanitization stations located throughout the theatres and state-of-the-art ventilation systems for robust fresh-air exchange. Visit our Audience Safety Measures for more information.
What Precautions Will Mirvish Be Taking When Reopening?
The safety of our audiences and staff is our priority. A number of new measures will be put in place as part of our reopening plan including: mask-wearing requirements, contactless ticketing, physical distancing throughout the venue, sanitization stations, one way entry and exit of the theatre, enhanced cleaning, contact tracing, and flexible ticket exchange policy. For more details please see the COVID-19 Audience Safety Measures page.
Contact Tracing
For contact tracing purposes, the ticket purchaser will be considered the primary contact for any guests and will be expected to have contact info for each member of their party.