Hyprov: Improv Under Hypnosis
Dates
April 9 - April 14, 2024
Theatre
CAA Theatre
651 Yonge St, Toronto
ON, M4Y 1Z9
Performance Schedule
Tuesday - Saturday: 8PM
Wednesday: 1:30PM
Saturday & Sunday: 2PM
Running Time
90 - 100 minutes (no intermission)
Advisory
Use of Haze and Strobe Lighting. Recommended for ages 12+. Must be 18+ to volunteer.
Accessibility Services
For assistance booking special access seats or for information about our Accessibility Services, please call 1.800.461.3333.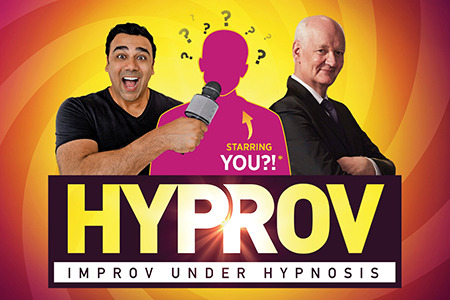 Direct from Las Vegas: Colin Mochrie and Asad Mecci Resume North American Tour of their Hit Show
An international success story, HYPROV (pronounced hip-rawv) continues to make waves after its sold out Canadian tour earlier this year and Off-Broadway run in 2022. The live show, which has been called a "celebration of the human imagination" by The Times of London, combines hypnosis and improv for a one-of-a-kind comedy experience.
The 90-minute show combines hypnosis and improv–two art forms that have mystified and entertained fans, skeptics and everyone in between worldwide–for a totally unique comedy experience. The evening begins with Mecci welcoming 20 volunteers on stage to be hypnotized. The most receptive to hypnosis then join Mochrie to improvise the rest of the show, while hypnotized. In the hands of two experts–and solely crafted from the volunteers' uninhibited, unconscious minds–each show is an entirely original and completely unforgettable theatrical experience.
Hyprov: Improv Under Hypnosis Calendar