David Mirvish Presents the Hope and Hell Theatre Co production of Disgraced by Ayad Akhtar
RETURN ENGAGEMENT!
Disgraced
Dates
November 11 to 26, 2017
Closed: November 26, 2017
Theatre
CAA Theatre
651 Yonge St, Toronto

Running Time
90 minutes (no intermission)
Audience Advisory
DISGRACED may be inappropriate for children 12 and under. Mature language & adult situations.
Show Goers Rating
5/5 - 432 reviews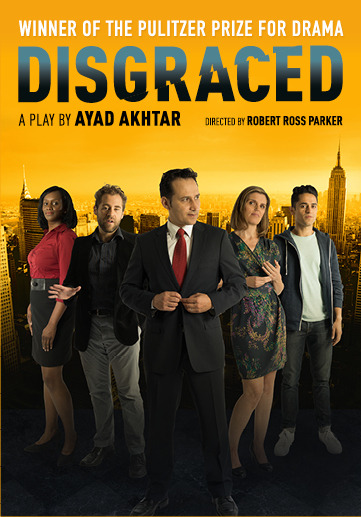 RELIGION | POLITICS | MONEY | RACE
Four taboo topics for a dinner party.

A New York dinner party. A shattering cultural collision. When discussion turns to politics and religion, the match is lit on a combustible powder keg of identity politics.
After smashing box office records last season, the Hope and Hell Co. production of DISGRACED returns for a strictly limited engagement. This provocative and daring tale that The Globe and Mail calls "excellent" and "fearless" is a must-see for all theatre-goers!
Read More
Written by Ayad Akhtar—a new voice who "finds urgent dramatic connections that serious theatregoers crave" (The Washington Post)—this provocative tale of big city aspiration and cultural assimilation dares to face the truth hiding just below the deception.