Bat Out of Hell The Musical
Dates
October 14, 2017 to January 7, 2018
Closed: January 7, 2018
Theatre
CAA Ed Mirvish Theatre
244 Victoria St, Toronto

Running Time
2 hours 40 minutes (includes intermission)
Audience Advisory
Theatrical Smoke/Haze. Use of Strobe lighting. Mature themes. Suggested for ages 15 and older.
Show Goers Rating
5/5 - 14424 reviews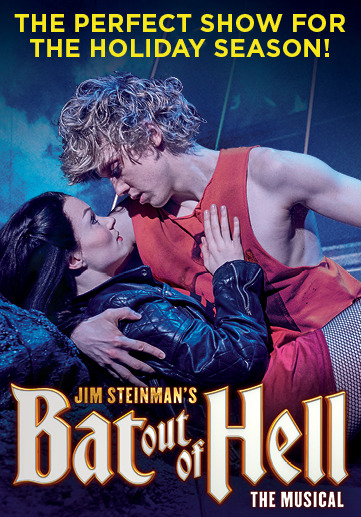 The streets are heating up as young, rebellious leader Strat falls in love with Raven, the beautiful daughter of the most powerful man in post-apocalyptic Obsidian.
Originally written as a musical, BAT OUT OF HELL went on to become one of the most iconic and successful albums of all time. 40 years later, Jim Steinman's critically acclaimed love story for the ages 'brings the theatre and its audience thrillingly alive' (The Stage).
With a multi award-winning creative team from the world of Theatre, Opera, Music and Film, this 'jaw-dropping spectacle' (London Evening Standard) is now on stage at Toronto's Ed Mirvish Theatre.
Don't miss this 'glorious, ridiculous, insanely enjoyable night out' (WhatsOnStage).