From Our Patrons: My Pandemic Creation
Here are the pandemic creations of four more Meanwhile readers.
Hi there!
I'm so grateful that I can show this off!!!! I am so proud of this book!!! I made it straight through a two week period right when the pandemic started. I would make a Volume two but haven't seen anymore shows to be able to add to this. 😭😭


It's a HUGE coffee table book filled with all of the shows we've been to, my sister and I.
Linh H. Tran
Hope you love it as much as I do.
---
Dear Mirvish,
The last performance that I attended was Come From Away at the Royal Alex. It was outstanding! I've certainly missed live theatre, to say the least.
As I constantly question and try to make sense of the world I live in, I realize that theatre does the same with its depictions of the alienated, the undervalued and the misunderstood.
This pandemic has allowed me more time to be creative and to focus on my mixed media collages. By using the theme of theatre in my artwork, I am provided with a platform to express my affinity to many of the thoughts and feelings I've seen presented on stage.

Sincerely,
Chery Holmes
---
Dear Mirvish Theatre Family:
In addition to hand-knitting several shawls for future theatre audience wear, I have completed two art quilts.
Pandemic Roulette (COVID-19 #1)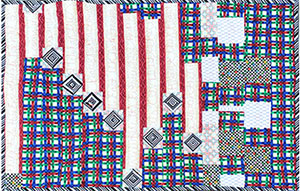 Created early in 2020, when we were introduced to the language and concepts of an unprecedented global pandemic, "Pandemic Roulette" is an appliquéd quilt. It is machine quilted with various messages from news reports, moving from "Everything is normal" to "Nothing is the same". The larger black and white squares, which fall and rise across the quilt, represent the initial awareness and the ongoing waves of the pandemic, with variants represented by smaller checkerboard fabric. The chicken wire fabric represents the attempts to quell and contain the virus, even as it mutates.
Chicken Little Was Right (COVID-19 #2)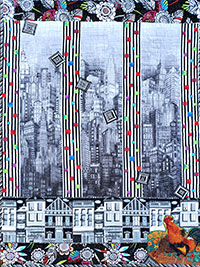 "Chicken Little Was Right" references a traditional children's story in which Chicken Little attempts to convince her friends, including Henny Penny, Ducky Lucky and Turkey Lurkey, that the sky is falling. In the story's reality, the "sky" is a fallen acorn. Here, falling virus squares are superimposed on a city skyline, with the first one to "land" being closely examined by one of our fowl friends. It is machine pieced, appliqued and quilted.
Until I can applaud live performances again, I'll try to keep my hands busy creating.
Cheers,
Karen Wold
---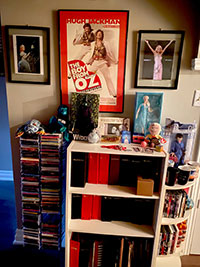 After moving into a new home, I created a theatre corner that features all the glorious times I've had watching amazing shows in Toronto and New York.
Memorabilia! Playbills! Cast Recordings! Autographs!
(Did I mention the walls are also lined with framed theatre posters?)
It's my slice of theatre at home, especially as we can't attend theatre in person right now. I can't wait to actually see a live theatre show again.
Melissa Fields
Have you turned to arts and crafts during this pandemic? We'd love to hear from you. We'd especially like to see photos of your creations. Don't be shy. It's time you blew your own horn and shared your work with others. If we feature your work in future issues of Meanwhile, we'll reward you a $100 Mirvish gift card. Email us at creations@mirvish.com.