Author(s)
Music & Lyrics by Academy Award Winners GLEN HANSARD & MARKÉTA IRGLOVÁ. Book by ENDA WALSH
Venue
Royal Alexandra Theatre
Show Run
November, 26 2013 - January, 5 2014
Season
2013/14 Main Season
Producer/Director
ONCE is produced by Barbara Broccoli, John N. Hart Jr., Patrick Milling Smith, Frederick Zollo, Brian Carmody, Michael G. Wilson, Orin Wolf, The Shubert Organization and Executive Producer Robert Cole, in association with New York Theatre Workshop.
Direction by JOHN TIFFANY. Movement by STEVEN HOGGETT
Cast
Stuart Ward (Guy), Dani De Waal (Girl), Ray Bokhour (Da), Matt Deangelis (Švec) John Gardner (Eamon), Donna Garner (Baruška), Evan Harrington (Billy), Ryan Link (Emcee), Benjamin Magnuson (Bank Manager), Alex Nee (Andrej), Erica Swindell (Ex-Girlfriend), Kolette Tetlow (Ivanka), Claire Wellin (Réza), Estelle Bajou, Stephen McIntyre, Zander Meisner, Tina Stafford, Tiffany Topol and Matt Wolpe.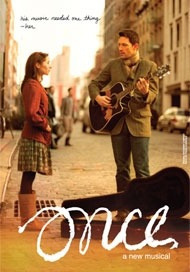 ONCE, winner of eight Tony Awards including Best Musical and winner of the 2013 Grammy Award for Best Musical Theater Album.