Venue
Royal Alexandra Theatre
Show Run
April, 6 1959 - April, 11 1959
Producer/Director
Luben Vichey/Achkar Marof,Kante Facelli & Raphael Wigbert (Dir & Choro)
Cast
Suzy Baye, Mansaba Camara, Marcelle Diallo, Pierrette Diouf, Diene Doumbouya, Aissatou Mansare, Guy Mondor, Issa Niang, Rolande Raphael, Ladji Camara, Nabi Camara, Daouda Diabate, Diallo Balla, Mafila Kante, Mamadou Keita, Kouyante Kandia, Abdoulaye N'Diaye, Jacouba Sankhom, Aliou Sissoko, Diely Bakar Sissoko,Mamadou Toure, Dougoufana Trraore, Italo Zambo with others.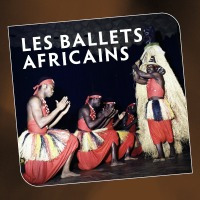 View Gallery
Les Ballets Africains, which was founded by Guinean poet, dancer and choreographer Fodéba Keïta in 1948, is a troupe that uses the drumming, dancing and traditional storytelling of African culture. It has toured the world since 1951, including a run on Broadway in 1959, and played at the Royal Alex in 1959.
After Guinea obtained its independence from France in 1958, then President of Guinea Ahmed Sékou Touré made the ballet the country's national ensemble. Because traditionally, Guinean men and women dance bare-chested, the company sometimes found laws in some countries restrictive. For instance, in 1959 while performing in Montreal, the troupe was charged with giving indecent performances. The judge dismissed the charge.