Author(s)
John-Michael Tebelak, Stephen Schwartz
Venue
Royal Alexandra Theatre
Show Run
May, 26 1972 - September, 3 1972
Producer/Director
Ed Mirvish / Howard L. Sponseller Jr.
Cast
Original Company: Victor Garber (Jesus), Gilda Radner (Gilmer) Martin Short (Jeffrey), Eugene Levy (Herb, later Jesus), Jayne Eastwood (Sonia), Gerry Salsberg (Judas), Avril Marie Chown (Joanne), Rudy Webb (Lamar), Andrea Martin (Robin, later Sonia), Valda Aviks (Peggy), Elaine Lansitie, Derek McGrath, Randi Sanfield (Alternates) & Robin White (Alternate, later Jesus)
Also Jo Ann Brooks (Robin - chicken pox forced her to leave the cast 2 weeks before opening night).
Second Company: Don Scardino (Jesus ), Mary Ann McDonald (Robin), Gordon Thomson (Jesus IV), Nancy Dolman (Alternate), Jim Betts (Judas), Karl Blindheim (Jeffrey), Beth Anne Cole (Gilmer), Patty Elsasser (Alternate, Sonia), Dave Thomas (Herb).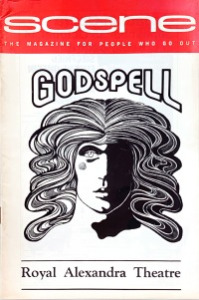 Stephen Schwartz's Godspell was a massive hit, playing from May to September 1972 The production featured a cast of budding young talent that included Victor Garber, Eugene Levy, Andrea Martin, Gilda Radner, Dave Thomas and Martin Short. The show's musical director was Paul Shaffer, who would go on to be Dave Letterman's musical director on The Late Show.