Author(s)
Book, Music and Lyrics by Irene Sankoff and David Hein (My Mother's Lesbian Jewish Wiccan Wedding).
Venue
Royal Alexandra Theatre
Show Run
December 19, 2019 - March 13, 2020
Producer/Director
David Mirvish Presents. Directed by Christopher Ashley
Cast
Featuring Saccha Dennis, Steffi DiDomenicantonio, Barbara Fulton, Lisa Horner, James Kall, George Masswohl, Ali Momen, Jack Noseworthy, Cory O'Brien, Kristen Peace, Eliza-Jane Scott, Kevin Vidal, Susan Dunstan, Kate Etienne, Amir Haidar, Jeff Madden, David Silvestri and Cailin Stadnyk.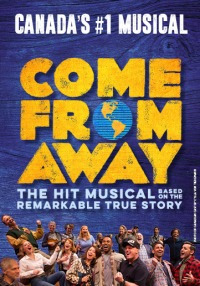 The Covid-19 pandemic struck, forcing all theatres to shut. The final Come From Away performance was on March 13, 2020. Performances will resume when it is safe to do so.