Bat Out of Hell - The Musical 2018
Author(s)
Book, music and lyrics by Jim Steinman
Show Run
October, 16 2018 - November, 3 2018
Producer/Director
Directed by award-winning theatre and opera director Jay Scheib
Produced by David Sonenberg, Michael Cohl, Randy Lennox, Tony Smith, and produced in association with Bat Out of Hell Holding Limited.
Cast
Andrew Polec as Strat.
Also starring are Emily Schultheis as Raven, Bradley Dean as Falco, Lulu Lloyd as Sloane, Avionce Hoyles as Tink, Harper Miles as Zahara, and Tyrick Jones as Jagwire. The ensemble for Bat Out Of Hell – The Musical includes Will Branner, Samantha Pauly, Zuri Washington, Alana Randall, Erin Mosher, Emilie Battle, Kaleb Wells, Nik Alexander, Adam Kemmerer, Michael Milkanin, Lincoln Clauss, Alex Deleo, Paulina Jurzec, Nick Martinez, and Tiernan Tunnicliffe.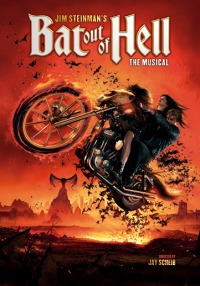 3 Weeks Only! BAT OUT OF HELL THE MUSICAL features Jim Steinman and Meat Loaf's Greatest Hits: Dead Ring for Love, Two out of Three Ain't Bad, Paradise by the Dashboard Light, I'd do Anything For Love (But I Won't Do That), and Bat Out Of Hell.