Jesus Christ Superstar 50th Anniversary Tour
Dates
November 30, 2021 - January 2, 2022
ended December 23, 2021
Closed: January 2, 2022
Theatre
Princess of Wales Theatre
300 King Street West, Toronto

Running Time
1 hour 35 minutes (no intermission)
Audience Advisory
Theatrical haze, fog, flame and glitter. Recommended for ages 12+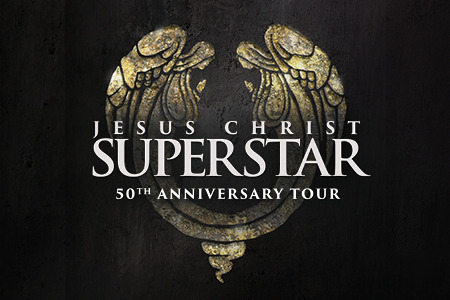 An album that inspired a REVOLUTION.
A REVELATION that changed the world.
A REINVENTION for this millennium.
Jesus Christ Superstar is an iconic musical phenomenon with a world-wide fan base. In celebration of its 50th Anniversary, a new mesmerizing production comes to North America. Originally staged by London's Regent's Park Open Air Theatre and helmed by the acclaimed director Timothy Sheader (Crazy for You, Into the Woods) and award-winning choreographer Drew McOnie (King Kong, Strictly Ballroom), this production won the 2017 Olivier Award for Best Musical Revival garnering unprecedented reviews and accolades. Appealing to both theatre audiences and concert music fans, this production pays tribute to the historic 1971 Billboard Album of the Year while creating a modern, theatrical world that is uniquely fresh and inspiring.
Featuring award-winning music by Andrew Lloyd Webber and lyrics by Tim Rice, Jesus Christ Superstar is set against the backdrop of an extraordinary series of events during the final weeks in the life of Jesus Christ as seen through the eyes of Judas. Reflecting the rock roots that defined a generation, the legendary score includes I Don't Know How to Love Him, Gethsemane and Superstar.
A triumph! A glorius, gleaming, life-affirming celebration for enduring...jolts the theatre back to life! - NOW Magazine
Hosanna Hey! ELECTRICALLY STAGED, DANCED AND SUNG. Offers audiences catharsis after the long isolation of the pandemic. Completely worth it! - Toronto Star
Spectacular, absolutely spectacular! - TVO
As powerful and moving as ever! - CTV
Sweet Jesus! A glorious triumph! - 98.1 CHFI
A feast for the senses! What a show! - Global The Morning Show
High praise for JESUS CHRIST SUPERSTAR! The energy on stage is electric. - CP24
Republished from The New York Times
The rock opera, with music by Andrew Lloyd Webber and lyrics by Tim Rice, opened on Broadway on Oct. 12, 1971, to protests, an irate composer — and sold-out shows.
When I discovered the record, it felt like the bizarre offspring of my deepest, dorkiest passions: theater and dad rock.
What to expect during your visit to the theatre
ARE MASKS REQUIRED AT THE THEATRE?
Yes, all visitors and staff will be required to wear a mask that fully covers the nose, mouth and chin at all times during their visit to the theatre. Masks should fit snugly against the face without gaps; cloth masks should have at least two layers of fabric. Neck gaiters and bandanas are not permitted.
IS A FULL VACCINATION REQUIRED TO ENTER THE THEATRE?
Performances in our theatres are at full-capacity seating.

The requirement of our patrons to be fully vaccinated also means that all of our staff, artists and crew must be fully vaccinated to enter and work at the Mirvish theatres.
Proof of Vaccination - All patrons, 12 years of age or older, upon entry to the theatre, must provide the following documentation:
Enhanced vaccine certificate (QR code) of full COVID-19 vaccination issued by the public health authority that administered the vaccine, meaning the full series of a World Health Organization (WHO) approved COVID-19 vaccine or combination of accepted vaccines, received at least 14 days prior to the performance date. Documentation can be displayed on a mobile device or printed. For patrons who received their vaccinations in Ontario, documents can be accessed at covid19.ontariohealth.ca.
Government issued ID (i.e. driver's license, health card or passport) that matches the proof of full vaccination documentation.
Children under the age of 12 are not required to provide receipt of vaccination.
Nine First Nations communities are excluded from providing an enhanced vaccination receipt. Members of these communities are still required to show a vaccine receipt and a form of ID.
Visitors from outside of Canada who do not have access to a QR code from their home jurisdiction or country that can be successfully scanned by the Verify Ontario app may show their own country's or jurisdiction's vaccine receipt(s) to prove they are fully vaccinated and must show their valid non-Canadian passport or NEXUS card as ID.
Medical / Clinical Trial Exemptions -Patrons unable to be fully vaccinated as they have an active medical exemption or are participating in a Health Canada approved COVID-19 vaccine clinical trial as specified in Ministry of Health guidance, need to provide the following documentation:
Enhanced medical/clinical trial exemption vaccination certificate with official QR code.
Government issued ID (i.e. driver's license, health card or passport) that matches the proof of full vaccination documentation.
Patrons unable to provide this documentation will not be admitted. Vaccine receipts without a QR code are no longer accepted as valid proof of vaccination.
WHAT AMENITIES WILL BE AVAILABLE AT THE THEATRE?
Bars and concessions are open. Food and beverage may only be consumed in the lobby areas. Coat checks are open.
WHAT DO I DO IF I FEEL ILL?
Please do not visit the theatre if you, or any member of your party, are in quarantine or isolation, have come in contact with someone with COVID-19, are experiencing any symptoms of COVID-19 or have tested positive for COVID-19. If you need to cancel your tickets, we are offering flexible ticket exchanges up to 24 hours prior to the showing. Please call 1.800.461.3333.