Venue
Royal Alexandra Theatre
Show Run
December, 23 2014 - March, 29 2015
Season
2014/15 Main Season
Producer/Director
David Mirvish presents A co-production with ROYAL MANITOBA THEATRE CENTRE The Heart of Robin Hood by David Farr.
Cast
Gabriel Ebert (Robin Hood), Izzie Steele (Marion), Euan Morton, (Prince John), Christian Lloyd (Pierre). The ensemble includes Anna Bartlam, Richard Clarkin, Jeremy Crawford, Zachary Eisenstat, Paul Essiembre, Amariah Faulkner, Troy Feldman, Martin Julien, Tristan Mackid, Katelyn McCulloch, Meguire McRae-King, Carson Reaume, Sarah Schenkkan, Stephen Michael Spencer, Darcy Stewart and Tate Yap. Songs by Parsonsfield.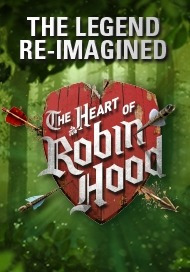 Limited run to March 1, 2015. Extended by popular demand to March 29, 2015.